We wanted to get a little bit off the normal tourist trail (relatively speaking, this is still Bali we are talking about) and spent three days on the north west coast in a town called Amed. Well, sort of: our hotel was on the long coastal road and we never actually made it into the town, wherever it was. We would walk a few hundred feet in either direction of our hotel looking for restaurants, but never needed to go very far.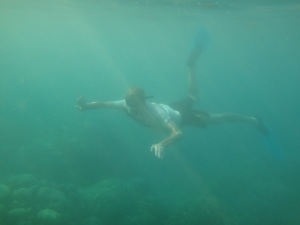 The hotel was perched on a hill with the rooms dotting a path of steep stairs that led from the lobby on the road down to the rocky beach below where there was a restaurant and an infinity pool. It felt a little strange relaxing in a pool that was 20 feet away from the ocean, but after getting bashed up a bit on the rocks during an attempt at a snorkeling adventure we decided to play it safe after that. Our room was towards the top of the hill and had a postcard view of the ocean.
We walked next door to a dive shop and arranged for two dives. We knew we weren't in high season, but still I was surprised that we had a dive master all to ourselves with no one else joining our group. Usually as a diver you have some responsibility to help gather your gear and put it together, but the dive shop was super attentive and really took care of everything for us, I've never felt so spoiled.
We did two shore dives, which means that instead of going out in a boat, we just walked out into the ocean. Which can be awkward in the sand with a huge tank on your back! But the water was warm and even that close to shore we saw some amazing things. Our first dive was a wall of coral, and the second around an old little shipwreck. Besides the multitudes of colorful fish, we spotted a moray eel, giant clams, and one grouper that was half the size of me. We saw the poisonous stone fish, and the beautiful but also poisonous lion fish. There were some cuttlefish that were probably flirting with each other, beautiful bands of iridescent color sparkling and changing around their sides. We even got lucky and saw an octopus about the size of my head. The dive master scared it out of a small hole, and it scuttled about, changing colors instantly as it moved and tried to blend in to hide from us, eventually disappearing into another hole in the coral.
It was a very fun day. We hadn't been diving since Honduras, so it was fun to get back under the water. It truly is one of my most favorite things, flying through the water over the ocean floor.
—
We loved diving, but we wanted to get back to a real sandy beach, so we headed back down to the south of Bali to an area called Seminyak. The areas around the airport have traditionally been a big destination for tourists, with lots of hotels and restaurants. Many more snobby travelers avoid the area altogether, deeming it "ruined with too many tourists". David and I love getting off the beaten track, but we keep finding we don't mind the "ruined" areas so much either, even though we have no interest going to bars, which is often the main draw for most of the people there.
Due once again to the utter failure of google maps in Bali, we ended up booking a hotel that was far to the north of most of the activity, but that actually ended up serving us well. Our hotel was cozy and comfortable and had a great pool. We were about a ten minute walk down to the beach, and wow, what a beach. Just miles and miles of white sand and a roaring ocean. The water was cooler here, and there were many areas with dangerous riptides that was marked off for swimming. But just sitting on the beach watching the sun set, a warm breeze in your hair – it was exactly what we wanted for our last few days. We walked miles down that beach, it was just so dang pleasant.
We also found a reputable massage parlor that was hidden away just off the beach by our place. Like Thailand, massage parlors are everywhere in Bali, and many establishments do not have the best reputations – we were told to avoid the ones that offered a massage with "plus plus". But we met someone at the hotel who recommended the Jepun Beach Spa that turned out to be wonderful. They have a website, but I'm not sure how updated it is. You'll notice if you click on "Contact Us", the Google maps image shows them as being located in Manhattan. Seriously, Google maps, get it together.
I find wimpy soft massages a little boring so usually gravitate towards the biggest masseuse I can find, but in Bali I'd been told that the smaller the girl, the more it would hurt. So when a ninety pound girl showed up, I was both wary but hopeful. With limited English she told me to undress and handed me a little black shrink-wrapped package about the size of a cigar before she headed out. I held it up quizzically, and she said a few things I didn't understand, and then finally she said slowly, "pan-ties". Turns out they are these little mesh privacy underwear they give you. I guess they shrink wrap them to make them seem new? Totally cracked me up.
After I "dressed", she came back in and basically proceed to beat me up for an hour. She had her elbow so deep into my shoulder blades I was sure I was going to walk out with breasts. It was heaven, and I was sore for three days. The bill was 70,000Rp, or about $5.75. For an hour!
A few days later after I'd mostly recovered, I went back and had an hour long foot massage. The great thing about the foot rub was that even though I had tears in my eyes from the pain, I still managed to fall asleep I was so relaxed. She did manage to rip out all the hairs in my shin though. It hurt a little at the time as she pulled on the hairs while rubbing my leg, but several days later I developed a rash as each individual hair follicle turned red and tender. I couldn't touch my shin for a week. But boy did my feet feel good!
We were very sad to have to leave Bali. It is definitely a place I could spend a good amount of time. I'm left wondering if we will make it back there this trip or not…
Next up: Singapore.
What is the best massage you've ever had?
Related Posts
The Mother Temple of Besakih in Bali
Monkey Forest
The Bone Church