Singapore, like Venice, is a real challenge for the budget traveler. Our basic budget on this trip is $50 a day, which is more than enough for most of the places we have gone, but just doesn't cut it in a place like Singapore, especially if you aren't willing to do dorm rooms in hostels. In the end we found a private room at a hostel that was just big enough for bunk beds and didn't even have a window. Even that cost us $70 a night. But though it lacked in charm, the location right in Chinatown was terrific and we had an amazing couple of days. Just be prepared to spend more money than you are used to in the rest of South East Asia.
—-
Having lived in Singapore for six months in 1997, I was amazed at both what had changed as well as what had stayed the same. Singapore remains a clean, safe, and easy to navigate place. Partly because they are pretty strict with rules. Littering carries large fines. You can get caned if you get caught not flushing a public toilet. And as our plane landed the flight attendant helpfully reminded us all that trafficking in illegal drugs carries the death penalty. That said, English is an official language so communication is easy, and Western style food is abundant if that is what you are after. Of course western food is also sold at greater than western prices, so we were often looking for other options.
We made it to a food court called Newton Circus. It has been there for years, and is a great place to get local delicacies such as chili crab. I was on the hunt for something I'd enjoyed there years ago – barbecued sting ray. We were there late in the afternoon before the crowds came, and as soon as we walked in the guy at the first stand ran over and asked us what we wanted to eat. The lady from the next stand over was right behind him offering us drinks. Sometimes we get annoyed with people who are overly aggressive at trying to sell us, but really, sometimes it is nice when someone offers to solve your problem and just gives you what you want.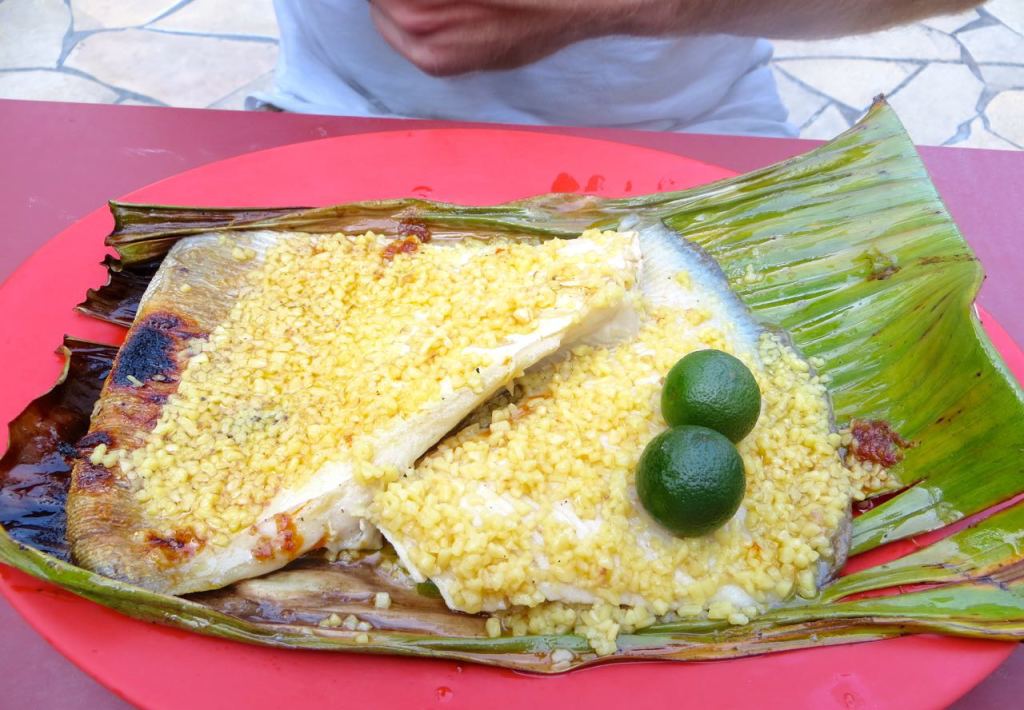 The stingray was covered in garlic and served on a banana leaf. It was also just as delicious as I'd remembered. Highly recommended if you go to Singapore.
—-
We tried visiting some of the places I used to go, but things had changed. My old apartment complex had erected a new wall around it so I couldn't get inside or even see the courtyard. Similar giant complexes had grown up all around it. My work site had been near the marina, but I couldn't even find it on a map. They had reclaimed new ground from the ocean, building the entire area up immensely, so the geography was all new. There is a new park with these giant fake trees that are reminiscent of the movie "Avatar", with a canopy you can walk through and a fancy restaurant and I think some giant botanical gardens or something. We went for the evening light show, which was a little silly but was entertaining for the price of free.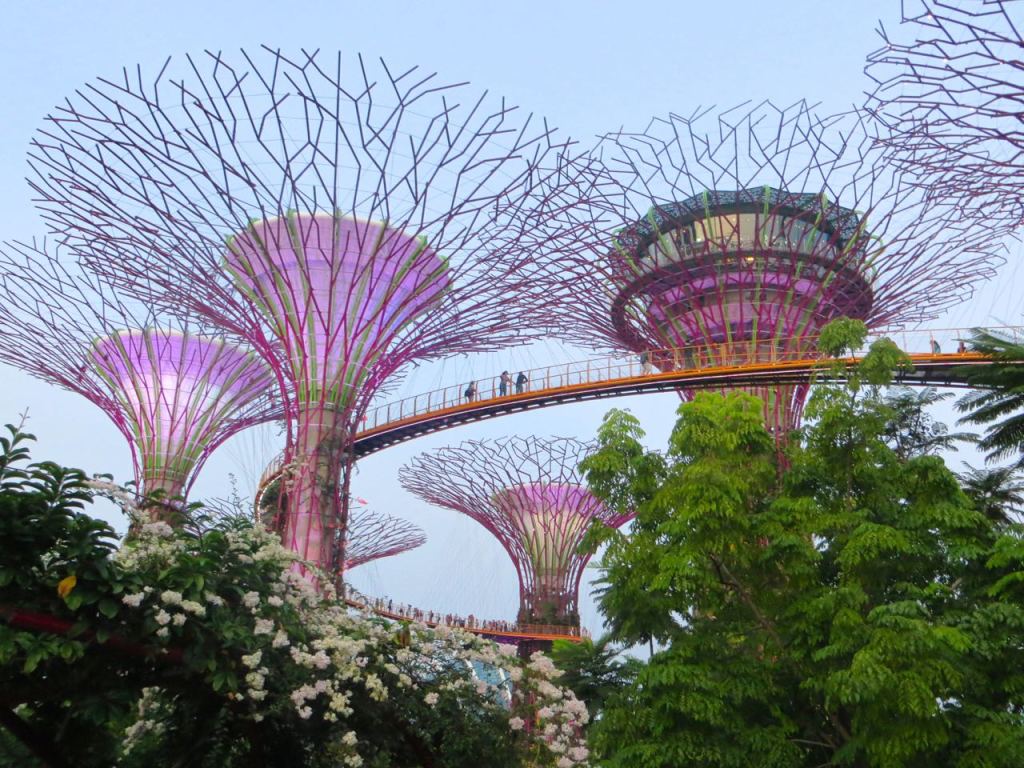 —-
Everywhere we went there were couples taking wedding photos. At the light show, in front of statues, in the parks. The women would be in these stunning white wedding gowns, and then they would get surrounded by a team of dressers and would emerge in a new dress for more pictures. The husbands would wait patiently. We have seen that in a lot of places we've been, but for whatever reason we saw a lot of them in Singapore.
—-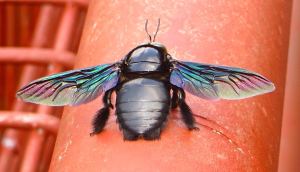 We went on a hike in the hills, though the humidity took its toll and by the end we were pooped. We did see some wild monkeys though, which we hadn't expected. We also saw an amazing bug, which due to its size we thought was a beetle but looking at the pictures we think it was some kind of humongous fly. Whatever it was, it was awesome.
—-
The last time I was in Singapore, I learned to love an Australian candy bar called a Violet Crumble. It is a candy bar version of honeycomb covered in chocolate, and even though I'm not a huge candy bar guy, I totally loved them. As an import from Australia though, they can be hard to find. I eventually found a candy store chain that had them, so we went on a trek to get to one, only to have them tell us they were sold out. D'oh!
Just when I thought all was lost, we finally found them at the airport flying out. Totally worth the wait. And totally worth moving to Australia for.
—-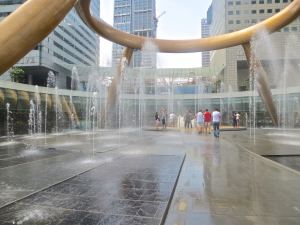 Our quest through the city for the Violet Crumble brought us to the Fountain of Wealth, which is the largest fountain in the world. At certain times they turn off the main fountain and let people walk into the center to a small central fountain. As the story goes, if you put your hand in the water and walk around it three times, wealth is supposed to come your way. This was the second time we've visited the fountain, and while by American standards I'm certainly nowhere near what I would call "wealth", I guess I can't complain if I can save up enough money to travel the world for a year. Certainly by Thai standards I am rather wealthy. However I'm still poor by Singaporean standards, and since that is where the fountain is, I'm pretty sure the fountain needs to step it up on my behalf! 😉
—-
While at the Fountain of Wealth, we were looking around for lunch. There were a lot of restaurants in the vicinity, but most were ridiculously expensive – even the pizza joint we checked out was charging $50 for a single large pizza for crying out loud. So we ended up at a McDonald's. Hey, I'm not proud. It was the cheapest option and again, it solved the problem of my hunger. (Did I mention that Singapore is VERY EXPENSIVE.) The reason I mention this at all, is that when we ordered they asked us if we wanted a "shaker". Puzzled, I said sure. What they gave me was a little packet of a dry seaweed salt for our french fries. I was leery as the french fries were already salted, but when I put the seaweed stuff on it – holy cow it was amazing! It didn't taste fishy or anything like that, just like a really yummy seasoned salt. I stopped eating at McDonalds in America over a decade ago (for me there are always better options) but for those of you who still get that hankering for fries, you should totally start a letter-writing campaign to bring the Singapore seaweed shaker into every store!
—-
I'm leaving out a visit to my favorite place in the country, but only because it deserves an entire post of its own. Coming up soon!
Related Posts:
The island of Java, Indonesia
Bangkok, Thailand
Budapest, Hungary