Up on the slopes of a volcano sits a Hindu temple known as Mother Temple of Besakih. The exact origins of the temple are unknown, and the foundations date to over 2000 years old. It is now a series of interconnected temples and courtyards that run up the mountainside, with the peak of Mount Agung looming prominently overhead.
It is considered the holiest of all Hindu temples on Bali. In 1963 the volcano erupted, killing some 1,700 hundred people. Lava began streaming down the slopes towards the temple, only to divert mere meters away, sparing the entire complex. The faithful took that as a sign from the Gods.
These days, tourists have a love/hate relationship with the temple. We love the beauty of the setting, with the looming volcano adding significant majesty to photos. Unfortunately it is also one of the most aggressively unpleasant tourist traps in all of Bali (possibly the world?), so before visiting you really have to prepare for the onslaught.
After paying a reasonable couple of bucks entry and parking fee, the tour vans drop you off in a courtyard surrounded by stalls selling the usual trinkets. One thing to note is that you are required to wear a sarong to enter the complex. David and I were prepared and had bought some cheap sarongs in Ubud for 30,000Rp, or about $2.50USD. If you arrive at the temple empty handed, you can rent them from the stalls for the same price (or more, depending on their mood and your ability to bargain). To be clear, this would not be the place to buy anything unless you are just a masochist who loves to lose a haggle.
I had visited the temple on a previous trip, so I was prepared for the ugliness and tried to warn David and the Canadian guys we were traveling with beforehand. We googled it, we got some advice, and felt prepared. Because at the entrance to the temple is what we heard referred to as a "syndicate", a group of well-organized tour guides/thugs who try to scam you in every conceivable way, demanding fees and "donations" and extortionate prices for "tours" and then tips on top of that. They have decided to disregard any form of politeness or tact, and instead go straight for your throat. Their main tactics are doubt, guilt and flat out intimidation. They have no actual authority over the temple, but they are very, very skilled at making you think they do.
So our first retaliatory tactic was avoidance, and we strode past them with purpose and confidence and started walking up the steps to the temple. Well, I did. The other guys stopped to read a huge sign posted in front that said something along the lines of "This is a holy temple and unless you are here to worship you MUST pay for a guide." I was about half way up before one of the guides saw me and started yelling at me to come down. Since the other guys were still on the ground contemplating this official looking sign, suddenly doubting everything we had been told, I retreated with a sigh.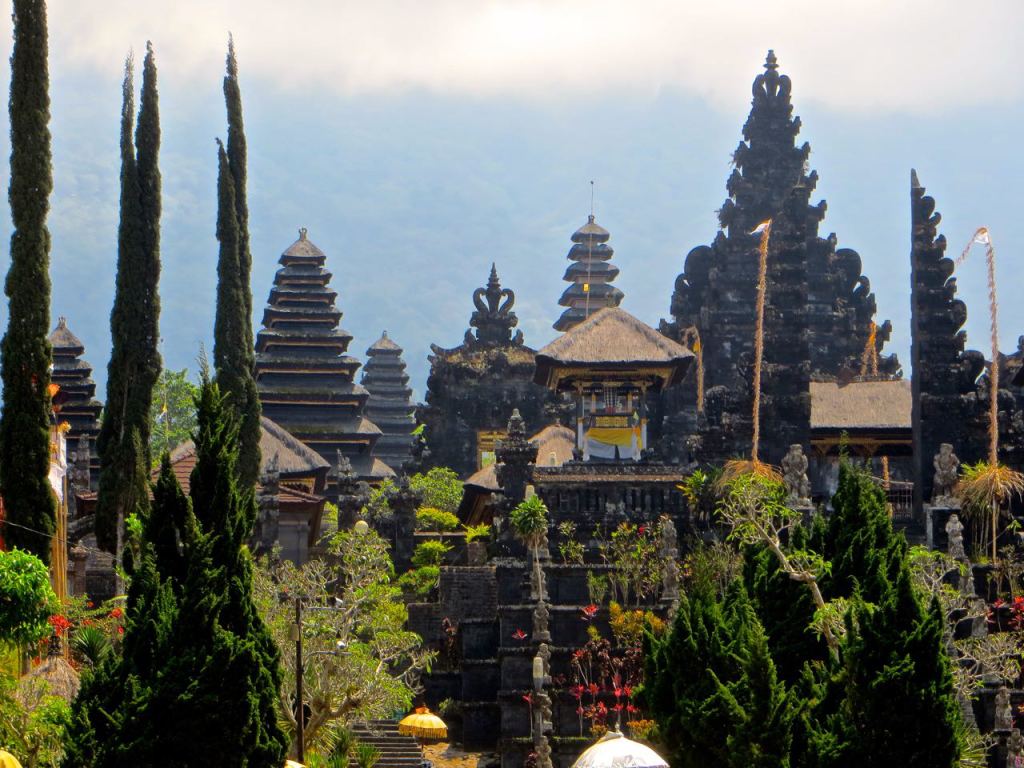 I will admit the guy had excellent English skills, which was much better than the guy who accosted me the first time I visited the temple. He told us that today was a very special holy day and because of the festival we would not be allowed to enter the temple without a guide. (Which isn't even what his sign said, but it sounds almost believable, right?) Our presence in the temple would be insulting to the other worshipers, but of course if we just paid him then it would somehow be ok. Having been to the temple before when an actual festival was taking place, I could clearly see there was no festival going on, in fact it was practically deserted. Besides, everything we had read said we did not need a guide. We had been specifically told back in Ubud we did not need a guide. In the parking lot even our driver had quietly and hesitatingly confirmed that we did not need a guide, but begged us not to tell anyone he had told us that out of fear of retaliation. But now this guide was doing a great job of sowing doubt. And heck, there was a sign!
I shook it off. I knew the longer we talked to this guy, the more likely he would break someone down. I said "Thank you but no thank you" with a smile and headed back up the stairs. The guide was not happy with that, and started shouting that I needed to pay him. I just kept going, hoping the others were following me. (Luckily they were.) I made it about half way up and the guide screamed at the top of his lungs "ARE YOU STUPID OR WHAT??" I considered a handful of responses to that, but I knew that engagement was what he wanted. I just kept walking.
He, of course, did not follow us, I'm sure waiting for easier prey. Though another Caucasian couple witnessed our encounter and they quickly followed us up without a guide as well. We collected ourselves at the top of the staircase, all buzzing with adrenaline. We did not, of course, want to be disrespectful in any way. But we did not want to get taken advantage of by bullies either. It is a really unfortunate situation.
We walked around the rest of the complex, realizing there were many side entrances and that it would've been much more pleasant to just avoid the main entrance altogether. The draw of the main entrance is getting a photo on the steps of the temple with the volcano overhead, but we had arrived early in the morning and the volcano was still shrouded in clouds anyway.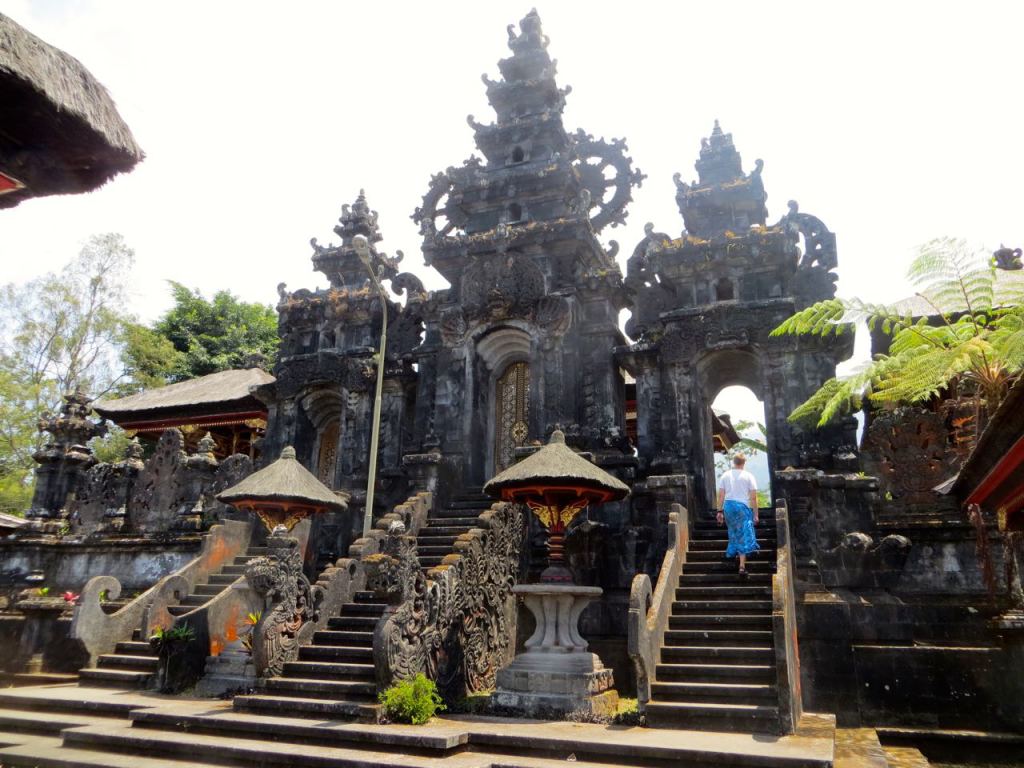 The temple was still very quiet, but the locals who were there smiled at us as we passed. They did not seem to be offended that we didn't have a guide rushing us through. We did see a few people praying and avoided those areas, but mostly it was women setting up stalls selling coconut water and Cokes.
At the top, up behind the main complex was a small road lined with shops that were just starting to open. There was a sign pointing off to the side that promised a "Photo Opportunity!", but it was obviously a ploy to get you to walk through the hawker stands. We walked further back instead and found another temple complex separated from the rest. It was gorgeous with amazing detailed carvings and bridges, and was still completely deserted. I imagine most tourists miss it altogether, but it was my favorite part with a breathtaking view down the slopes.
The Mother Temple at Besakih is a beautiful place. And if you are committed to getting that one special photo of the volcano, it might be worth it run the gauntlet later in the day. But honestly, for me I have to say I'm on the fence as to whether I think it is worth it to go or not. The ugliness stayed with us, putting us just a little on edge as we explored, preventing me from getting to feel the temple like I've done at other places. I guess you could just pay their ransom so they don't yell at you, but then you are just perpetuating the problem for everyone else.
And just so you don't think I'm making this up or overreacting, go read the reviews on Tripadvisor. In fact, reading the reviews again I can see how easy we had it, I'm guessing partly because we were there so early in the morning before the tour busses had started arriving, so all of the members of "the syndicate" weren't in place yet. Also the fact that once we left the car we did not dawdle but beelined straight for the temple entrance. I'm sure the slower you wander the more of a target you make yourself for the various ticket and "donation" scams. (It also seems there are two parking lots, and we had the advantage of being in the lot closer to the entrance. If you have to park in the second lot you have a lot farther to walk and therefore probably a lot more touts to get through.)
To be clear, we experienced nothing like this anywhere else in Bali. Anywhere there are tourists there will be someone to take advantage of you if you aren't careful, but the Besakih temple takes it to a new level.
Do the photos above make you want to go? Or would you take a pass to skip the unpleasantness? Tell us in the comments below!
Related posts
Ubud, Bali, and the Monkey Forest
The (much more pleasant) temple at Borobudur
I have a new favorite word
All photos by Robb Hillman and David McMullin