We knew we would be jetlagged after our flight from Amsterdam, but thanks to a strategic credit card bonus we had gotten (travel hacking works!), we were able to use points to stay at a fairly nice hotel rather than having to scrounge for a guesthouse after we arrived. We even had an infinity pool on the roof that we took advantage of in the cooler evenings. It is interesting how these nice hotels just sit amid the squalor. Yet somehow the crazy disparity in Bangkok isn't as upsetting as it seems. At least to me, it gives it a very vibrant, raw feel to it. People are making it work for them. We were sleepy and only there for two nights, so didn't really get out to see much this time, but we still really enjoyed the time we had.
—-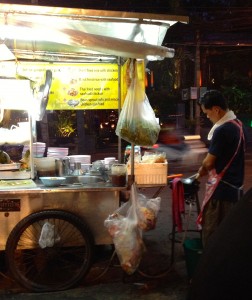 Down the street from our hotel was a plethora of food stalls. They often have a limited menu, after all it is just one little hand cart and can only hold so many ingredients. (Though sometimes if you order something they don't have they will yell down to a different cart to get it made for you. Teamwork!) We chose one little place, and sitting at a plastic table on the side of a busy, dirty street in Bangkok I had what was probably the best pad thai I've ever eaten. So delicious. And it cost about a buck fifty.
—-
Google map street view is the best thing that has ever happened to travel. Now when we go someplace, David will map out the route, and then page through on the street view to pre-navigate through any confusing spots or turns. So when we actually start walking the route, we are familiar with where we are going, even though we've never actually been there before. It is awesome, and saves us from having to pull out paper maps, which only acts as a magnet for taxi drivers to harass us even more.
—-
We had to get some immunizations, so made our way to the Bangkok Hospital of Tropical Diseases. It was all very fancy and official. FYI we both have great blood pressure and in just two weeks had each already lost five pounds since we stopped gorging on Costco Chocolate Cake and ice cream every night like we were doing before we left.
The doc saw us first, then the nurse came in and gave us the shots. She had a different technique than most nurses in the states do, and instead of going in quickly she pushed the needles (had to get two jabs) very slowly into my arm. (I always pay attention to nursing technique, it intrigues me). But I have to say neither hurt hardly at all. Except for after. Sore!
We looked into getting those two shots, for Typhoid and Japanese Encephalitis, before we left. The cost in Vegas? $700, plus whatever the provider would have charged us for the office visit. The cost in Bangkok? About $52 for everything. The exact same service at over a 92% discount? Now that's what I'm talking about.

—-
The street vendors sell this orange juice made from lemon sized green oranges that is out of this world. I've already had quite a few. It is delivered in plastic bottles and the seller will give you a straw. It costs 20 baht, or about 65 cents. We've tried a few other flavors, pomegranate and something called "water gak", which was an orange colored, grapefruit sized fruit with spiky bumps. Neither were nearly as good though. I remember when I lived in Taiwan we saw the man squeezing the oranges, so it seemed like it was legit. But I'm hearing rumors and am starting to fear that there may be a significant amount of sugar mixed into it. Drats!
—-
They drive on the wrong side of the road in Thailand. Street traffic is bad enough with the scooters, crazy driving, and the fact that all known rules of standard driving are regarded as mere suggestions rather than requirements. But now I have to remember to look the opposite way than I'm used to before I cross a street (which is already a leap of extreme faith). David and I keep having to grab each other from stepping out in front of a scooter coming up from behind us. But we are getting better at it – instead of trusting instinct, we now look wildly both ways back and forth the entire time we are in the street. I'm sure we look like madmen, but we aren't getting hit, so I think it is worth it.
—-
Please share with others who might appreciate reading this, and don't forget to leave your own observations/stories/fact checking in the comments below!
Related posts
Travel Stories: The Bone Church
Travel Snacks: Prague
Travel Snacks: Budapest, Hungary
All photos by Robb Hillman and David McMullin