Grocery stores are often one of my favorite places to stop when I travel. I love seeing the varieties of produce, and the strange combinations of flavors on things that are otherwise familiar. The varieties of cheese seemed endless, though often we had to pick only by sight alone as we couldn't read the labels. Wine was also amazingly cheap, and we found one brand we loved that was (on sale!) less than $3 a bottle. Italy had the unusual red and white mottled bean pods called borlotti beans that I had no way to cook but that looked amazing.
Milan
Milan was an interesting if brief stop. Known of course for fashion, we were impressed by how skinny and well dressed everyone was. Even the older executives wore tailored slim-fit suits. Basically it seemed like we were surrounded by models. For those of you interested in upcoming fashion, a trend we noticed was for realistic floral prints, which we saw on dresses and shirts on both men and women.
How do you live in a country known for pasta and stay that skinny??
Vicenza
One evening we were sitting in the town square in Vicenza, enjoying some delicious gelato while we admired the architecture, and just as we were thinking it just couldn't get any better, enter a troupe of traveling players. They were wearing delightful costumes of rich blues, oranges and white. The costumes were clearly all made by the same designer and with the same fabrics, and though there were maybe 25 of them, each one was unique, no two identical. I was most impressed by their quality, some of them having rich, detailed embroidery.
Four of them played various drums and whistles while the others performed a series of dances, all big and wild and reminiscent of gypsies or a circus. A few ran around the periphery handing out fliers for their show. After their set was complete, they continued on down the main street, dancing and hooting and hollering, and of course handing out more fliers as they hooted and hollered some more.
—-
We had gotten ourselves kind of off the beaten track, and as we walked down a long deserted road, up ahead we could see two burly men sitting on a bench. Not knowing exactly what kind of neighborhood we were in makes you a little cautious, and we were very aware of them as they watched up approach. Just as we passed, one of them stands up with a smile and shouts "America Number One!", giving us the thumbs up sign and a goofy grin.
I continue to be surprised that people can tell I'm American before I say a word. Is it my haircut? My sandals?
—-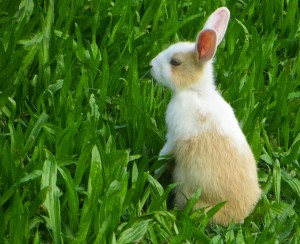 One afternoon we went for a walk. We quickly found the park was teeming with wildlife – in our short walk we spotted roosters, pigeons, a pond full of koi with swans, ducks, herons, turtles, and even a muskrat swimming about. But most noticeable were the dozens of adorable bunnies. Not the grey ones I'd look for in the deserts of Albuquerque, but with fur of white, black and rich browns, with various mixtures of the three. Once we'd gotten over admiring these timid but eye-catching bunnies, our eyes turned to a walkway lined with statues. This one in particular caught my eye, as it seems to depict a man, casually leaning against a wall, wholly unconcerned with the fact that he has just stabbed himself in the heart with a dagger. I wish statues all came with a plaque that told you the story behind it!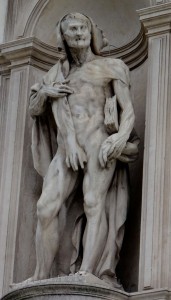 Another crazy statue we saw was this one, also in Vicenza, adorning a church. The man has been draped with what clearly is the skin of another man. I've been told that sometimes statues of saints will depict how it is that they died, and this could indeed be St. Bartholomew, who was reportedly flayed alive before being crucified upsidedown. Or beheaded, or drowned, depending on who you ask. Hmmm, maybe knowing the story isn't always better after all.
—-
Our Airbnb rental in Vicenza has a small balcony with grapes hanging over it. YES I AM IN ITALY SITTING ON A BALCONY EATING GRAPES I JUST PICKED.
The grapes are sourish and full of seeds, but I don't care.
Venice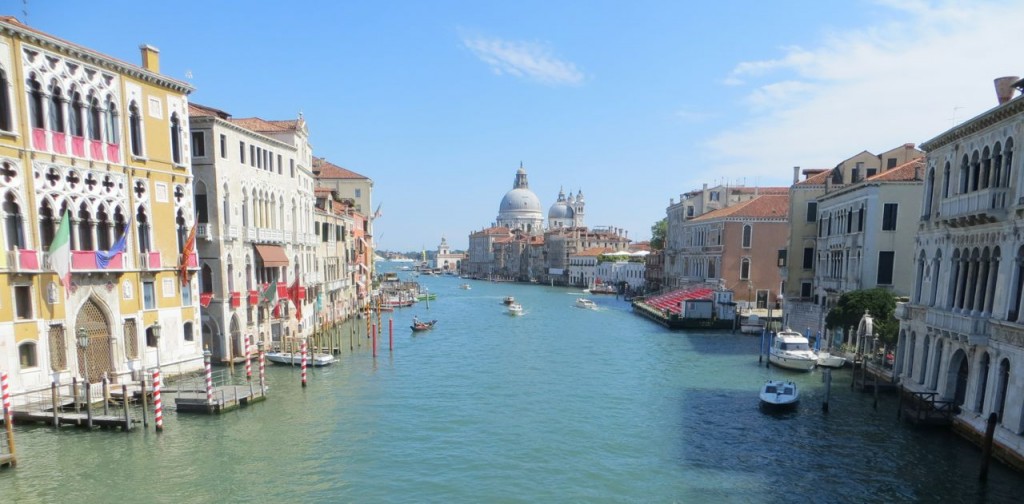 People are always going on about the Leaning Tower of Pisa, but we spotted not one but two leaning towers in Venice. The difference, I assume, is that because Venice is so crowded with buildings, you can't get The Picture of yourself holding the tower up, so they just don't count.
—-
One day as we left our hotel, we decided to walk a different direction. We made it down two narrow passageways before running into a bewildered looking backpacker. "Um, do you know where the road to the train is?" he asked us. The road was just one street over from our hotel, and we pointed him down the most likely exit from the small square. Since we had no clear destination of our own we walked with him, but as we walked through the passage we ended up in yet another courtyard. We had just left our own place and were a little confused that we could've gotten so turned around in such a short period of time. We continued on and had to pass through not one but two more small courtyards before we finally reached the square we had been expecting.
—-
One of the main sights to see in Venice is the cruelly but romantically named "Bridge of Sighs". The bridge leads to the old prison, and through the small windows prisoners could get one last glimpse of the sky and outside world before entering a prison they would likely never leave. So yeah, kinda dark. I'm pretty sure no one would give the bridge a second glance on its own, showing the importance of having a good story.
—-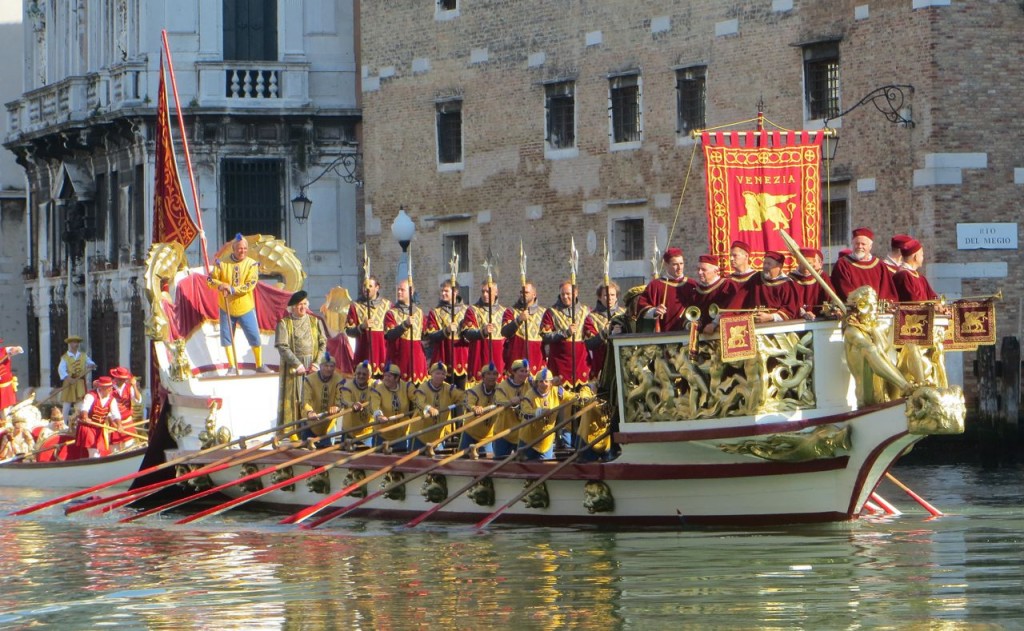 We just happened to be in Venice in time to watch the annual Regatta Storica. We started early scouting for a good place along the Grand Canal to watch, but the options were surprisingly limited and there were about a gajillion other tourists with the same idea. Luckily most other tourists aren't as good with a map as David is, and eventually he wound us down some narrow passageways and into a small square overlooking the canal. There were still a lot of people there, but there was also just enough room for the two of us to come sit at the edge, our feet dangling over the mossy sides.
The first procession seemed to be a mixture of historical and community floats. Some of the boats were big and stately, with a crew all in period costume manning the oars with strict precision. Other boats were run with a crew of mish-mashed neighbors of all ages, and maybe they were wearing matching t-shirts as they struggled down the canal but were clearly having a blast as the crowd cheered their passage.
Later there was going to be races, starting with kids and moving up to adults, but we had seen what we wanted and needed to get some pizza in our bellies pronto.
—-
Oh, and did I mention? Venice is crowded, yo.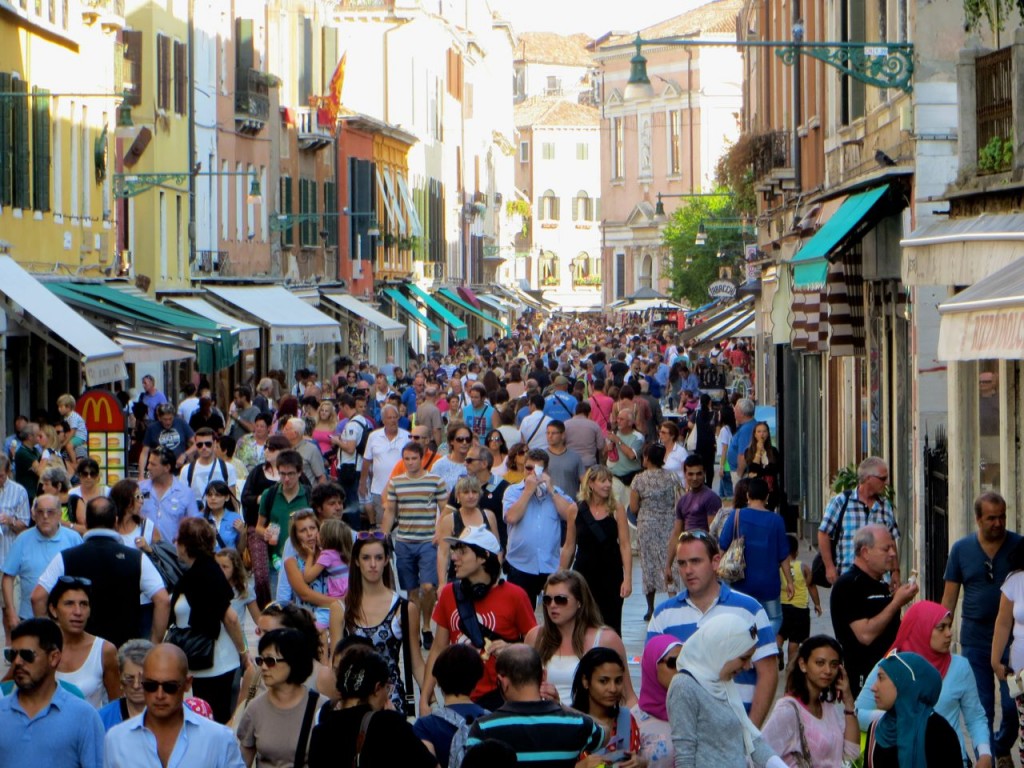 Related Posts:
Travel Stories: Venice, Italy
Please share with others who might appreciate reading this, and don't forget to leave your own observations/stories in the comments below!
—-
photo credit: (header pic of borlotti beans) pdugmore2001 via photopin cc
All other pics taken by Robb Hillman and David McMullin