Indonesia is, supposedly, a country made up of over 12,000 islands. Our first stop was going to be on the island of Java. Our flight into the capitol city of Jakarta arrived late in the evening, and by the time we cleared Immigration and made it out to the curb it was close to 11pm. We were prepared to take a taxi to our hostel as we'd read the last bus left at 10:30, but we lucked out and were told there was one last bus coming "around 11:30", which actually showed up at 11:15. This not only saved us waiting in a very long taxi line but was also 1/3 of the price and required no haggling. We had also been warned about how we would be besieged by touts trying to convince us into taking their unlicensed taxis (so they could rip us off), but I guess we are just getting to be more experienced travelers because we didn't find it all that bad, and a firm "No thank you" to the few that were persistent seemed to do the trick. In fact as we waited two different locals approached us to see if we needed help catching the bus (as they were themselves doing). I'm always moved by the kindness of total strangers in a foreign country.
Doraemon, The Blue Cowboy Cat
We were walking towards the National Monument, and as we approached we could tell it was a busy day. Lots of local tourists were there, and there were a lot of people taking advantage of the crowd by selling food and drinks. There were also, to my amusement, a variety of costume characters hoping for tips for taking photos. At first we just saw a blue cat with a huge head and cowboy hat, walking up the street ahead of us towards the monument. It was 1000 degrees out and very humid, and I could only imagine how miserable the cat must have been. Watching the cowboy cat just walk up the street ahead of us heading to work struck me as absurdly funny and perhaps kind of sad, and kept me giggling for far longer than it probably should have.
Once we reached the monument proper, we began seeing more characters. Of course there was no Disney-style management of the characters, so taking a look around we spotted at least four more of the blue cowboy cat. (I've been told he is not a cat, he is a doraemon, but I don't know what that means, and to me he was clearly a blue cat with a cowboy hat on.) We also saw quite a few little Russian peasant girls, whom we later saw on a poster and learned her name was Masha. They just stood around, all a respectable distance from each other, but still any kid was going to struggle figuring out who was real and who were the imposters. My Disney training had taught me that one of the most important rules – and there are A LOT of rules – is that there is never more than one of the same character in the entire park at any one time. If Classic Mickey is leading a parade down Main Street, Sorcerer Mickey is not performing in Fantasmic at the same time. That's just basic logic, right? A character can only exist in one place at a time. This was utter costume character chaos, and it made me decidedly uncomfortable. We also saw what was clearly a little kid in a Nemo clown fish costume. At least there was only one of him, but then I had to grapple with the fact that some parent had dressed their kid up in a costume and was parading him around the National Park hoping for some cash.
The cowboy cats and Russian peasants kept waving at us to come get a picture with them. The absurdity of it all tempted me, but in the end there were just too many to choose from. How did I justify going to the blue cat on the left instead of the blue cat on the right? Would the cats I didn't go to get their feelings hurt? I just couldn't do it.
The National Monument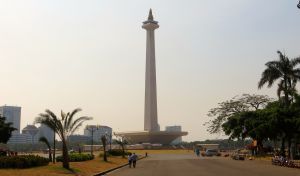 The monument itself was fairly interesting. We walked around it, but there was a fence that stopped us from getting in. We assumed there would be a ticket gate somewhere as we walked around it, but to our surprise there was none, and we couldn't figure out how all the people we could see on the other side of the fence were getting inside. Finally a kind stranger who could see our confusion pointed us to the entry, which was back a fair distance from the monument. From that point you went down some steps and entered the monument through an underground tunnel. We didn't get the symbolism, but ok.
The line to go to the top of the tower was, we were advised, several hours long already, so we weren't able to do that. But on the first floor was a museum with dioramas depicting the history of Indonesia, luckily with English translations. Unsurprisingly the history was anti-Colonialism, anti-Communism and anti-Dutch, but considering Indonesia is a Muslim country I was surprised that at several times the museum seemed to go out of its way to praise some of the Christian influences. Made me wonder about the politics of getting the museum funded and built.
Anybody want to buy a cow?
While walking up a busy downtown city street lined with various shops and banks and businesses we passed a bunch of farm animals tied up to a fence along the road. A couple of cows, maybe ten or so goats with those rounded Roman noses, and several sheep. It clearly wasn't where they lived, so I have to guess they were for sale. But who impulse buys livestock on the side of a city road?
That's The Ticket!
We stayed in Jakarta just two nights, and then decided to take the train to our next stop, Yogyakarta, which the locals referred to as "Joe-dja". The train took 8 hours, and gave us some great views of the countryside, past a huge volcano, lush rice fields, and, occasionally, some crushing poverty. Many backpackers take night trains, because it saves you the cost of a hotel room. But we love traveling during the day so we can see everything we pass. A plane ticket to Yogya was virtually the same price, and certainly would have been much quicker, but sometimes it is just good to be on the ground and get a look at the country your are traveling through.
Sometimes those who wander are lost
Just in case you are curious, Google Maps is a disaster in Indonesia. We didn't book a hotel in Yogya, because we knew there were many, many options, and many of the hostels (or losmens) did not have websites and only took walk-ins anyway. So we had a list of five places, looked them up on the map so we knew where they were, and when we arrived we started looking around for them. But none of them were where good old Google told us they were. We finally just went to another random place, which ended up being just fine. Over the next few days we stumbled across all of the ones we had been looking for, albeit in very different places than what Google had told us. We found this to be the case all over Indonesia, even in Bali. Sorry Google, but your Indonesia map is a mighty fail.
The show must go on
While visiting the Sultan's Palace, we were treated to a musical performance. There was a large group of instrumentalists, mostly playing discordant bells and xylophones and gongs, and then the singers doing their most nasal-type singing. It isn't a pretty sound to Western ears, but the former musician in me finds it fascinating trying to figure out how they find their pitch and rhythm.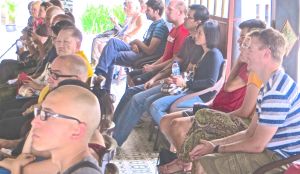 David got bored and wandered off taking photos, but I sat and listened a while. Eventually one lady had a very long solo. At one point she must have done something "wrong", because a whole group of the ladies had a big reaction and started clucking at her, pointing to something in their music. She ignored them, and kept doing what she was doing. It was hard to tell whether she was trying to maintain some level of stage presence or was just ambivalent. Just at that moment David took this picture of me. You can see how bored everyone else is, but I was leaning forward, ready to applaud. It. Was. Awesome.
The generation gap
While wandering around the museum section of the palace, there were guards in many of the display halls, each of whom was armed with a large fancy knife. We hoped there would be no trouble.
In one particularly quiet room, the two guards were sitting on chairs on either side of the entrance. The older guard was leaning back, snoring softly. The younger guard was tapping on his iPhone. People are the same everywhere.
Does this make it art?
On the main street, just a few blocks north of the Sultan's Palace, was a large, permanent, statue of the squirrel from the movie Ice Age. I wish I knew how that came to be.
A word to the wise
As we walked around, locals kept stopping to talk to us. At first we treated them with wariness, as in Thailand the friendliness usually quickly leads to "I can get you a ride/suit/massage". But here people kept talking to us, and usually did give us a recommendations on somewhere to go or something to see, but then rather than leading us there (to collect a commission for delivering us), they would give us directions and then go on their own way.
This happened a few times, but curiously the advice we got was sometimes contradictory. Four different people, including one at the tourist information center, tried to tell us about a parade, and each gave us totally different information about when and where it would be. We finally stumbled onto it one night on the way to dinner, at a completely different time and location than any of the people had told us. Were the people wrong? Did the event make a change? Was there more than one? Who knows!

My favorite pic from Java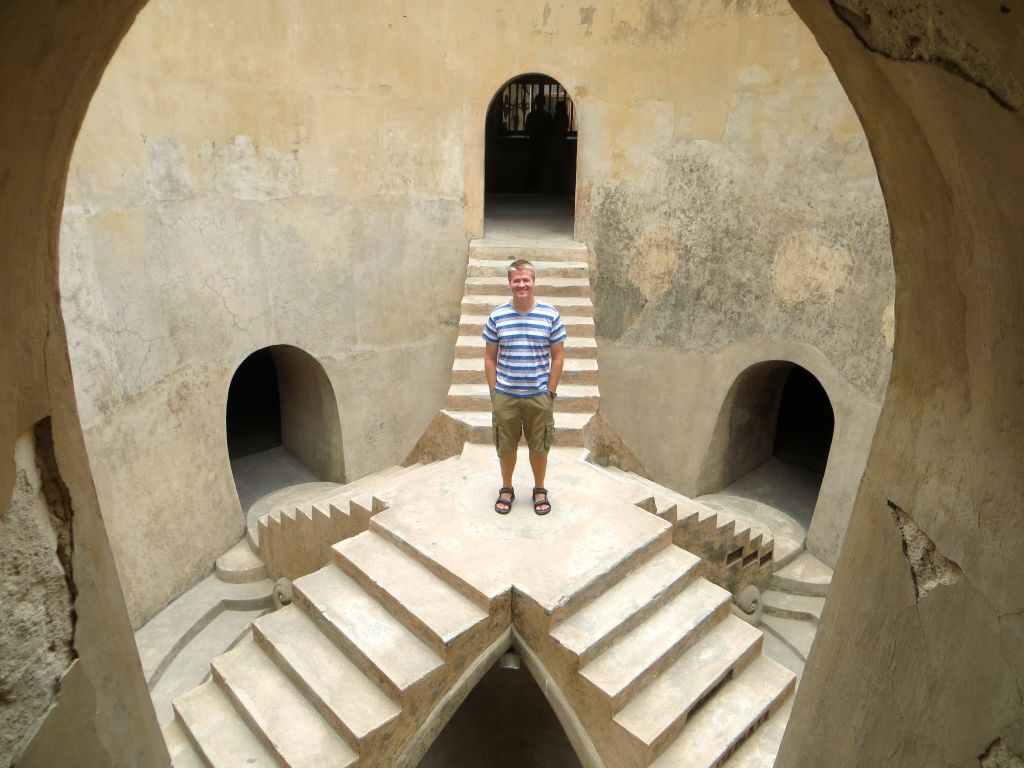 While making our way towards the Water Palace, a local appointed himself to be our tour guide. We didn't really want a tour guide, but he wouldn't leave, and ended up taking us to some cool places we never would've found on our own. The old bathing structure was easily our favorite site in Yogya. Sometimes things just work out.
The so weird it is awesome award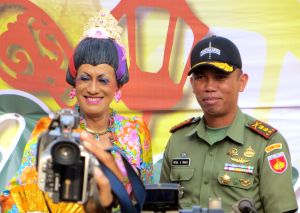 We came across some kind of ceremony/presentation that featured a drag queen teasing a soldier. There were game-show-host-style announcers and a bevy of drag queen dancers, and just down the street was a mime. We didn't get a picture of him, because mimes are just the annoying cousin of the evil clown, and they all gain strength if you give them any kind of attention. I have no idea what was going on, but despite the mime it was the kind of thing that makes you glad you decided to wander down that particular street.
Rant
I've about had it with smokers. It is one thing when locals smoke, because hey, it is their country and I'm the visitor. But when I go to a restaurant or try to sit in the common areas of my hotel, and another traveler sits down and starts chain smoking in my face, I have a problem with it. I know you know better, how about showing a little courtesy! We have been chased out of more porches and restaurants due to inconsiderate smokers, who seem to think that since they are in a foreign country that doesn't have anti-smoking laws they no longer have to be polite to others. At our place in Jogya, a couple of kids planted themselves next to us on the porch with an endless pack of cigarettes, while they texted away on their phones. The chain smoking did not let up for a second, and I finally had to leave to my room to finish up what I was writing. When I left to go for a meal, they were still there. After we ate and walked around, we came back and those kids were sitting in the exact same spots, still smoking, still drinking beer, still not talking to each other but just tap tap tapping away on their phones. I clocked them at at least 8 hours. I do not understand this form of travel. END RANT.
A change of plans, and another cute little old lady
At the end of our stay in Yogya, we had a dilemma. Our intention had been to travel to the far north east of Java to see a volcano that at night has blue lava. I mean, who wouldn't want to see that? But there was no easy way to get there from Yogya. It would've taken several more days of long and (relatively) expensive travel with several stops along the way, and by this point we were just kind of tired. So we did what any good traveler does when the realities on the ground don't quite match what you had expected – we adjusted our plans, and got a cheap plane flight to Bali.
While we were waiting at the airport, I walked past this adorable little old lady. The top of her head didn't even reach my arm pit, which seemed to amuse her. She walked up to me and took hold of my arm, lifting it up over her head to demonstrate how much shorter she was. Her large family was sitting around us and they laughed. Then she made a big show of how stinky my armpit was. Her family about fell out of their seats laughing so hard. Then they all wanted to get pictures of the two of us. It was a really cute moment. David was sitting a few aisles over, but he managed to get a photo. I can't say it enough times, but these are the moments that make travel so much fun.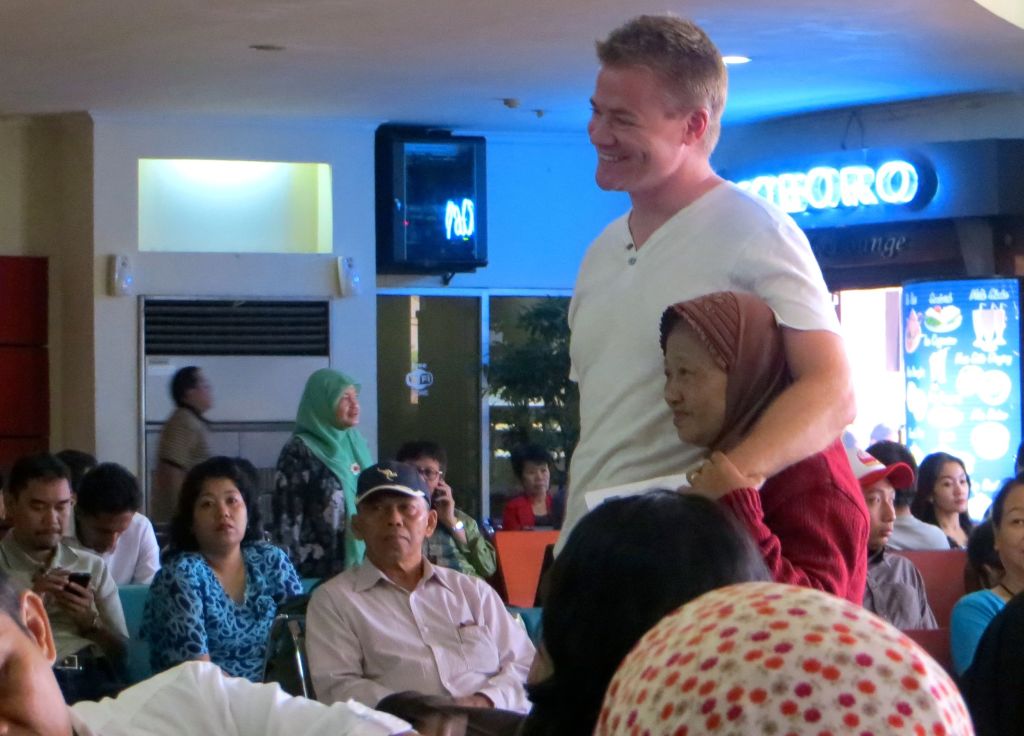 Please share with others who might appreciate reading this, and don't forget to leave your own observations/stories/fact checking in the comments below!
Related posts
Travel Stories: Eating Bugs in Thailand – with Video!
Travel Snacks: Phuket, Thailand
Travel Snacks: Bangkok, Thailand
All photos by Robb Hillman and David McMullin