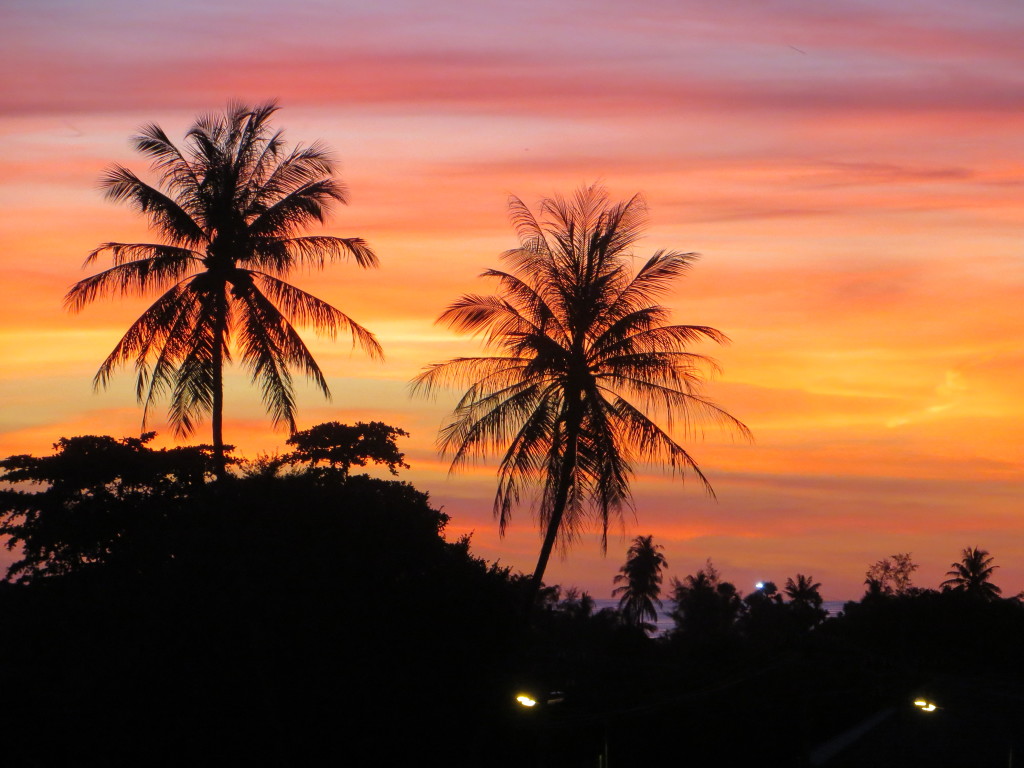 Our flight into Phuket gave us some spectacular views of the islands as we approached. Totally amazing.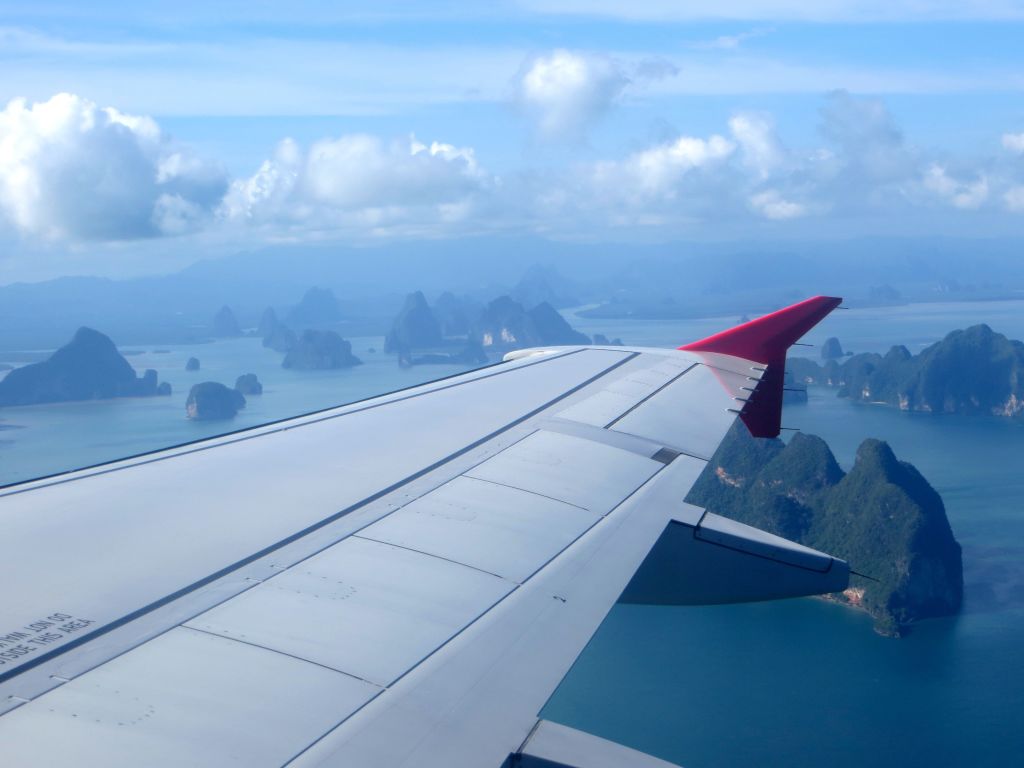 —-
We decided to avoid Phuket's party beach Patong, and instead went a little further south to the more relaxed Karon Beach. Our hotel was cheap since it was off-season at $23 a night including breakfast, and was much fancier than what we will probably usually be getting, with lovely grounds and a pool we found very refreshing every evening. Better yet, it was almost always deserted, even though, apparently, the hotel was totally sold out by the time we checked out.
The girls at the front desk were friendly, but were even more so once David started asking for help to learn some Thai. They loved that we had an interest, and would giggle at our poor pronunciation. David was quite impressive though and learned a fair bit of vocabulary in the short time we were there.
—-
We never ate at the hotel restaurant, but instead would wander around to find different local places to try. We did go to a few small restaurants, but our favorite food always came from the tiny places where the locals ate. One place, aptly named "The Pad Thai Shop" had been labeled as having "the best Pad Thai in the world" by Lonely Planet, and while I would give the edge to the guy on our street corner in Bangkok, I have to say we were given the biggest portions of anywhere I've yet been.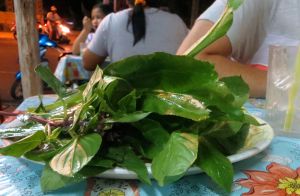 Many places will give you, along with your meal, a plateful of garnishes. Usually a big pile of bean sprouts, and maybe some green onions or something like that. One place put down this pile of leaves. It was about three different kinds, still attached to small branches. We laughed and figured we should at least taste the leaves. One was a little peppery, one was fibrous and just tasted like, well, grass. Another one must have been a relative of tarragon, as it tasted vaguely like licorice. None of the flavors really seemed to mix with the noodles we had ordered, but it was fun tasting them anyways.
Another lesson that we have learned: when you order shrimp, and they are served with their heads still on, eyes staring at you, they just aren't nearly as enjoyable to eat.
—-
We enjoyed Karon Beach, but one evening we walked even further south down to Kata Beach, which we liked even more. The beach there was wider and even had a few tide pools, although we were disappointed not to find anything. (There were some really cute sand crabs running around though.) The little town around Kata beach was definitely more upscale and fancy, but we found the touts to be exponentially more aggressive, always trying to shake your hand and engage you in meaningless conversation so they could get you to stop walking. Because once you stopped moving they had the upper hand and could pressure you to buy their shirt/art/taxi ride. We were unamused with this tactic.
—-
On Kata beach you could rent jet skis to zoom around in the ocean. One evening we looked up and saw that one of the tourists had fallen off, and was holding on to one handle while it spun in circles around him at full speed. He finally managed to turn it off, and the beach crew ran out to help retrieve everything. Once the guy got off his machine he started chasing another guy, who I assume was one of his friends. He starts swinging, and managed a few glancing punches while his other friends were trying to hold him back, but it was all in slow motion as they were still waist high in the water. The ground crew were unamused as they had to collect the gear and quickly got it away from the brawlers. Finally the guys rage seemed to subside, and we saw the two guys have an apology/forgiveness hug. I have no idea what the altercation was about, but it totally cracked me up. Ah, drunk tourists operating heavy machinery in an ocean full of swimmers…
—-
Overall we were decidedly disappointed in both the quantity and quality of cool bugs in Thailand, but we did manage a few good sightings. Of course there are the ubiquitous geckos, some pretty butterflies, lots of ants and some big katydids. There were the giant millipedes, which David always loves to play with. But one night as we sat in the pool, I looked up just in time to see a firefly streak across the sky above us. It held its light on a long time, and was flying pretty fast too. Just as we were realizing what we were seeing, a bat swooped in and ate it. D'oh!! We only saw another one once more, a few nights later, and also just for moment, though that one flew into a tree and not a bat's mouth. We tried varying our time at the pool, closer to sunset and later into the night, but we never got a better look.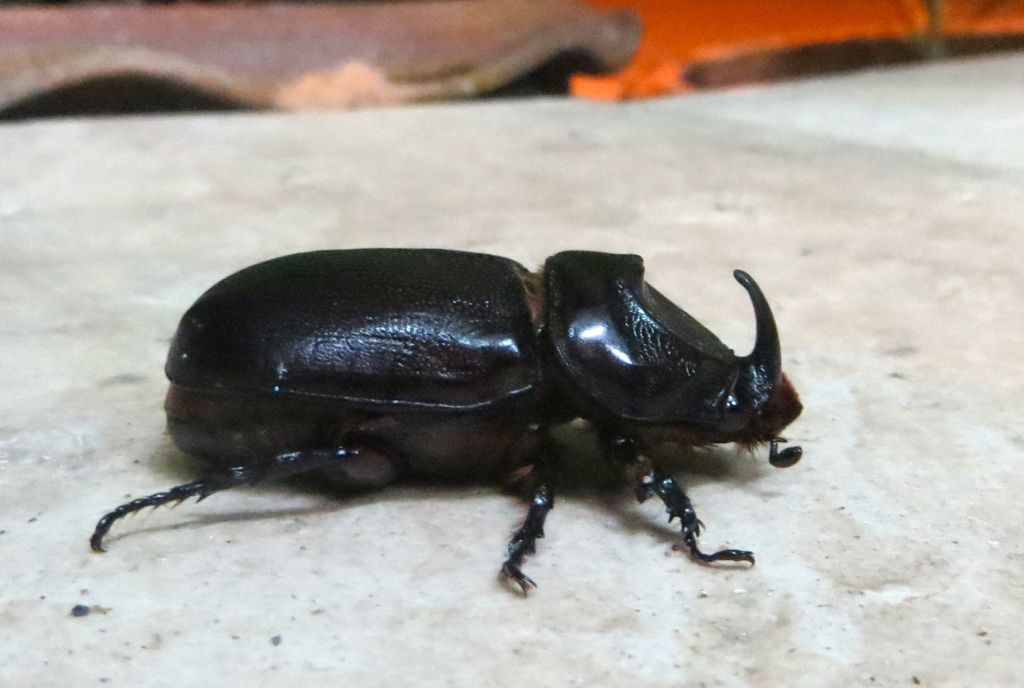 The best though was thanks to Davids eagle eyes. As we walked home from dinner one night, he noticed some movement in a flower pot outside a shop. We went over and found a gorgeous little Rhinoceros Beetle, our very first! He let us fiddle with him for a few minutes before crawling back into his pot. Finding a Rhinocerous beetle on a hike is actually something I have on my to-do list, so I was very excited! Isn't he gorgeous?
—-
After ten days at our lovely little spot, we moved over to Phuket Town so we could better attend the early morning processions of the Vegetarian Festival. From our room we made a long trek up a hill to see an overview of the town, stretching all the way to the ocean. It was gorgeous.
But what made the hike even more fun, was that David had been keeping a secret. There were monkeys! We had fantasized about seeing monkeys, but had no idea whether they were on the island or not. We checked the trees often, but never saw any sign of them around the beach. In researching this hike, David saw mention of them, but decided not to tell me. So when we got to the top, I was very excited to see them!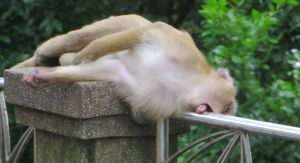 They were the typical macaques, mischievous and playful, waiting for the tourists to give them some fruit. And if the tourist wasn't fast enough, they'd come grab it. They weren't as aggressive as some I've seen, and there were lots of tiny little babies which were completely adorable. We took way too many pictures, most of which were blurry because you can't trust a monkey to hold still.
—-
You can catch my account of the not-at-all-what-you-think-it-is Vegetarian Festival here. But I've become obsessed with this bit of video I took so will share it here. This woman was in one of the floats. I have not a clue as to what her role was, or if there was any deeper meaning to what she was wearing or doing. All I know is that her float started playing this song, and she seemed to be trying to lip synch along. However it became clear quite quickly, even though I don't speak Thai, that she didn't know the words. I found her utterly charming.
—-
Also funny at the Vegetarian Festival were some of the t-shirts we saw. We've been collecting some of the funny sayings we've seen on shirts, but some at the festival seemed decidedly off topic.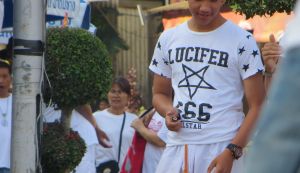 Yes, his shirt says "Lucifer 666". I couldn't get a good pic, but his buddy had a shirt that just said "Playboy" with the little bunny icon. I often wonder if people know what their shirts say. (How many Americans wear shirts with Chinese characters on them without really knowing what they say?) Honorable Mention goes to the t-shirt of the spectator that boldly proclaimed "I am a blood donor!"
—-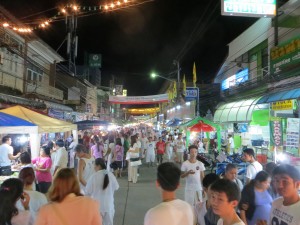 Setting aside the more controversial activities of the Vegetarian Festival, people were still eating an all-vegetarian diet for the nine days, and one night we stumbled onto the festival food grounds. It was lively and festive and we had a good time walking around. Although everything was vegetarian, the options were deep, and we just wandered around picking things at random based on sight and smell, since we had no idea what things were or what was in them or what kind of sauce they were using. If it looked good, I bought it. We got some spring rolls, and David insisted on getting this huge piece of tofu that looked like a slice of thick french toast – he liked it but it totally creeped me out texture wise. Everything else we bought we had wrapped up and took it home with us. A couple of kinds of noodles. Some sweetbreads. What I thought were little veggies, possibly pickled. It all looked and smelled delicious. (And including everything we spent less than $6.)
Once we got home and unwrapped things, it turned out we had a few surprises. The noodles were weird. Too sweet. Too…I don't even know. David thought they were ok, but I really couldn't eat either of them, they just gave me the shivers. I am postulating that Thai cooking is heavily reliant on fish sauce and oyster sauce, and if you take those off the table, the distinctive tastes of Thai food change drastically. I was crushed.
Worse was what I thought were tiny, adorable vegetables. I bit into one that looked like a cherry tomato, expecting a little burst of wet tomato-y goodness, and realized they were actually some kind of paste candy. Not at all what I expected. It is unfortunate that I didn't get video of me eating it, because I'm sure the shock in my eyes would've been hilarious to watch.
The sugar dough balls were, at least, exceptional. As was the orange juice, which I remain addicted to. But sugar dough balls and sweet orange juice, while enjoyable, do not make for the most satisfying dinner.
—-
Anywhere you go in Thailand (and much of South East Asia), the streets are frequently lined with massage parlors. Outside the store will sit a group of women, occasionally with a token guy, but usually just ladies. As you walk by, they shout "Massage? Massage? Massage!" Sometimes they are insistent, sometimes they are bored, sometimes they are flirty. Some of the parlors are totally legit places. Some aren't, but you can usually spot those ones.
After several days of taking long walks around, I knew I was ready for a foot massage. I always love getting my feet rubbed anyway, and here in Thailand they give the kind of deep, hard massage I really like. It isn't just a gentle squeeze, they take a stick and jam it into the bottom of your toes until you squirm. And when you do squirm, they don't stop, they just laugh at you.
We had been checking out the shops for a few days, and picked one that looked good. They were friendly but not too aggressive, and had their prices listed on the door. Perfect.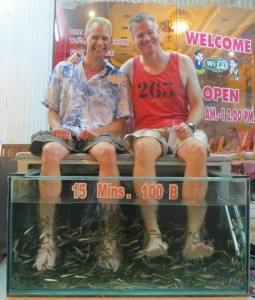 We went in and sat down, and had an hour massage for a little under $10. It wasn't the best foot massage I'd ever had – she was way too nice – but she dug in there a few times, so I was satisfied. The fun part came afterwards, when we were led back outside where they had these large fishtanks. We dipped our feet into the tanks, and hundreds of these little fish swam up and started eating us. Well, ok, I guess they were eating our skin, and supposedly just the dead skin. It didn't hurt, it more just kind of tickled. These tanks were all over town, and we'd seen some pretty annoyed looking tourists sitting in them while all the fish sat at the bottom of the tank and ignored them. But our fish were, apparently, starving, and attacked us with a vengeance. It was kind of silly, but, sometimes being silly is the great freedom of being a traveler.
—-
Please share with others who might appreciate reading this, and don't forget to leave your own observations/stories/fact checking in the comments below!
Related posts
Travel Stories: The Bone Church
Travel Snacks: Prague
Travel Snacks: Bangkok, Thailand
All photos by Robb Hillman and David McMullin