I couldn't wait to bite into a trdelník. We had seen them in Budapest, where they had the even harder to pronounce name kürtőskalács. But we ran out of time to try one there, and were thrilled when we saw them again in Prague. The street vendors would wrap dough around a metal pipe, which would then rotate over open coals to cook. Then they would slide it off the pipe and roll cinnamon sugar onto it. If you wanted to get fancy, they would spoon Nutella into the middle of it. What is there not to like? Nothing. The answer is there is nothing not to like.
—-
You can make the argument that Prague has become a victim of its own success, and is completely overrun with tourists. Which is true. But despite the crowds, and boy were there crowds, I still managed to feel the charm that made Prague so famous in the first place. We spread the main sights out over a couple of days so we weren't just always following the maddening crowd, and the strategy really paid off. The side streets were just as atmospheric and photogenic, and we wandered around aimlessly.
—-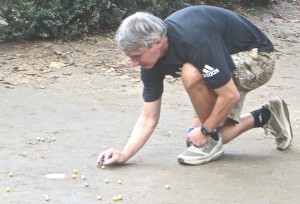 While walking through a park, we came upon a bustling square full of locals, many of them hunched down on the ground. It took us a minute to realize that they were all playing marbles. Now, I haven't played marbles since I was in grade school, but apparently it is a big thing in Prague. Groups of boys or women, old men and teenaged girls, there was no discernible demographic. But they were laughing and having fun yet were clearly totally serious about the game. We just watched for a while, intrigued.
—-
At the top of a large hill overlooking the city there is a hall of mirrors. As soon as David saw it on the map, he was determined to go. When we discovered you had to pay to get in he hesitated only a moment before declaring "I don't care, I've never been in one and I want to go." So we did. I've never been in one either so neither of us had a frame of reference, but it was silly and fun. The mirrors had simple but ornate wood paneling around them, which made it seem fancy even. We wandered through, and then probably broke the rules by going backwards through again just so we could enjoy it a little longer.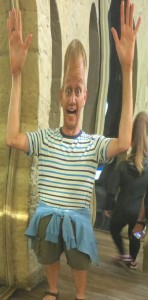 We could hear uproarious laughter coming from the exit, and when we finally had our fill and got through, the final room was full of joke mirrors. You know, the kind from the carnival that make you look really tall, or fat, or both. I love that such simple things can bring joy to people, regardless of the language you speak or the culture you come from. "Honey, look how fat your head is! Bwahahaha!"
—-
We stayed in an airbnb rental that was smack dab in the middle of Old Town. We thought we would be staying with other travelers, which seemed like a good way to meet people, but it turned out we were actually sharing the apartment with the people who lived there. They were lovely and accommodating and mostly tried to stay out of our way, which was fine but wasn't quite what we had expected.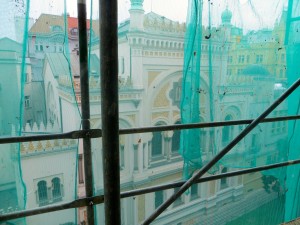 One of the draws of the place was a really cool view overlooking the Spanish Mosque. But when we arrived, the entire building was covered in construction tarps, so our view out the window was of the backside of the scaffolding. Ah well, that at least made us giggle, because it is a law that no matter where you go, SOMETHING you want to see is bound to be covered in scaffolding. This was just the first time that thing happened to be us! The construction to the building continued the entire time we were there, on the interior as well, so we were often stepping over gear and we entered/exited the building. It wasn't the fault of our hosts, and didn't really bother us, but it was kind of funny.
The final day of our stay I guess the construction was going to move too close to our room, so they very nicely moved us one floor down to stay in their friends apartment. "It is a nicer room, you will have your own balcony!" Yes, the room was nice, and yes, it did have a balcony. Of course, like everything else the balcony was covered in scaffolding and tarps, but hey, it is the thought that counts, right?
—-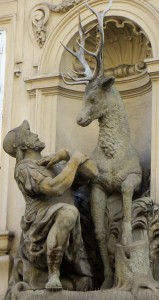 Another unexplainable statue. I have no idea what that gesture is the man is making to the deer, but David and I started doing it to each other. As often as possible.
—-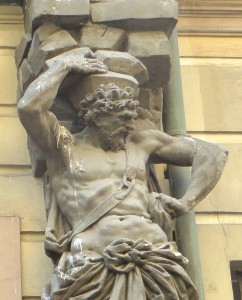 Many places in Europe carve muscular men, often hunched over, into the fronts of buildings or columns, making it look like these stone men are holding the buildings up on their shoulders. They are intriguing in general, but I thought this guy was unusually sassy.
—-
David Černý is a Czech sculptor who has several pieces installed around Prague. If you google search him, you will probably notice that he is often attached to the word "controversial".
One of his more visible creations are a series of babies crawling around, but their faces have been replaced by indented bar codes. I do not know what this is supposed to mean. We saw a couple on the ground, but they are also crawling all over the massive tv tower that you can see from just about anywhere in Prague.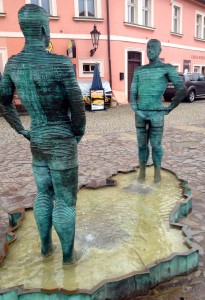 Another we saw, apparently entitled "Piss", is a statue of two men standing – and peeing into – a pool that is in the shape of the country. Even funnier is that the statues aren't solid, they actually shake and wiggle their hips around. We didn't realize it at the time, but the statues are actually spelling out famous quotes with their "pee". In fact there is a plaque with a number on it nearby, and if you SMS a message to the statue, they will spell out your message. With their pee. Even though we didn't realize the full scope of its awesomeness at the time, it was still hilarious watching people take pictures with them.
Though we were unsuccessful in finding it, apparently he has another really large statue of two people bent over. The idea is to climb up a ladder to their butt, and if you stick your head into the, ahem, opening, there is a video to watch of some politicians spoon feeding each other. Ah, art. I was bummed when we couldn't find it. (See what I did there?)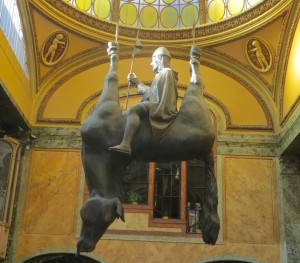 In the main square is a very famous statue of St. Vitus, a famous historical dude, riding a horse. Černý reimagined the statue and has the same dude riding a horse, but this time the horse is upside down and dead. The whole statue is suspended from the ceiling of a building just off of the square where the real statue is. My favorite touch was the tongue hanging out of the dead horses mouth. The real statue is akin to the Statue of Liberty or something, so you can understand why people call him "controversial".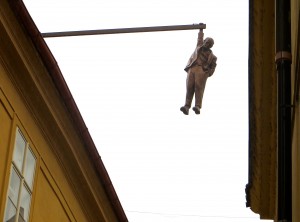 My favorite, though, was this little beauty, of a man just casually hanging from a pole, which is suspended high above one of the little side streets of old town. We heard different things, but the general consensus is that the man is Sigmund Freud. It was just so unusual and interesting, definitely my favorite.
*DISCLAIMER* I often have no idea what I am talking about. When I'm sharing the things I saw or did or heard, please do not assume that I have done much (or any) research about those things. Sometimes when I relate stories it is less about listing true facts about the thing and more about sharing my own experience of the thing. Which may or may not have been related to the facts. Unless of course someone (or Wikipedia) told me the facts and A) I found the facts interesting enough to remember and B) they weren't just lying for the sake of the story. (Hint: tour guides can lie, and Wikipedia can be wrong.) I won't knowingly lie about stuff (probably) but I'm not fact-checking everything I say either.
Please share with others who might appreciate reading this, and don't forget to leave your own observations/stories/fact checking in the comments below!
Related posts
Travel Snacks: Budapest, Hungary
Travel Snacks: Italy
All photos by Robb Hillman and David McMullin