In-flight Entertainment
Towards the end of our flight from Yogya to Bali, one of the flight attendants gave us all a little treat. He got onto the loudspeaker, thanked us for flying with Air Asia, and then someone handed him a tiny guitar. I'm sure the instrument has a special name, but it had six strings so I don't think it was actually an ukelele, though it sort of sounded like one. Anyway, his co-worker held the receiver up for him and he did his best to play and sing for us into the phone so we could hear it. He did an entire song for us.
I've never seen anything like that on a flight, and it was really kind of cute. We could barely hear him, nor could I make out the song he was singing, though he was singing in English. My favorite touch was that after he spoke but before he started singing he pulled out a little hat to wear. The hat of courage, perhaps? Or the hat of soul?
Anyway, after he finished the plane applauded him. He smiled but quickly disappeared into the gally, but not before taking off his special hat.
A Room With A View
We landed in Denpasar, Bali, and immediately took a taxi an hour and a half inland to the city of Ubud. We hadn't booked a place to stay, so we confused the poor cab driver when instead of an address just told him to drop us off in the center of town. He clearly felt like he was doing something wrong and kept apologizing like he was abandoning us. But as I suspected, within ten feet of the curb we were approached by a guy who asked us if we needed a place to stay. The first place he took us seemed a little bleak, but he took us across the street to another place that was exactly what we wanted. A large room that had no A/C but opened onto a lovely courtyard filled with pet birds. Initially we only had cold showers, but mysteriously by the third day the hot water turned on. We didn't need it much as it was quite warm and the cool showers were actually refreshing.
Eat, Pray, Love
I had been to Ubud back in 2001 and loved it. Since then the city became the "Love" part of the "Eat, Pray, Love" phenomenon, and has grown exponentially. I barely recognized the place it was so big and so crowded. But although we had been warned it had been "ruined" by tourists – we were told the real motto of Ubud should be "Eat, Pay, Leave" – we found the rumors of gloom and doom overrated. The city remains charming and relaxed despite the added bustle, and we thoroughly enjoyed having a few days to soak it all in.
A Festival?
Our timing was, once again, excellent, and we happened to be in town for some kind of local festival. We never did figure out exactly what the festival was, but we witnessed daily parades of exquisitely dressed locals marching toward their main temple in town, bearing meticulously crafted offerings of banana leaves, fruit and incense. The temple itself was off limits to anyone not wearing full ceremonial garb, but was open air and visible from the road and we saw elaborate performances and dances going on within. It was pretty cool.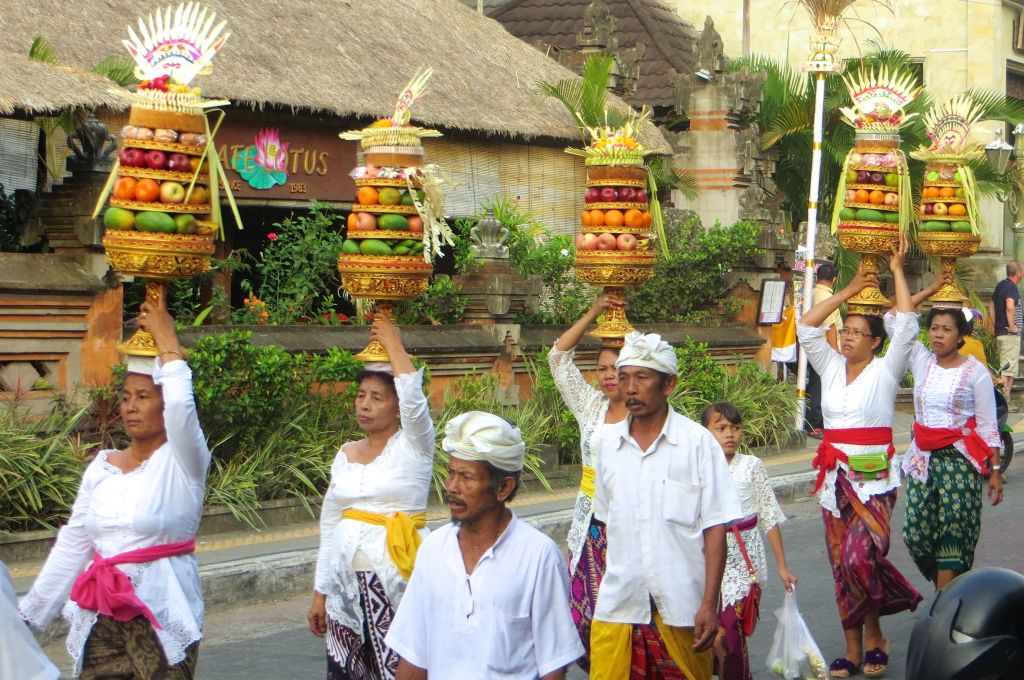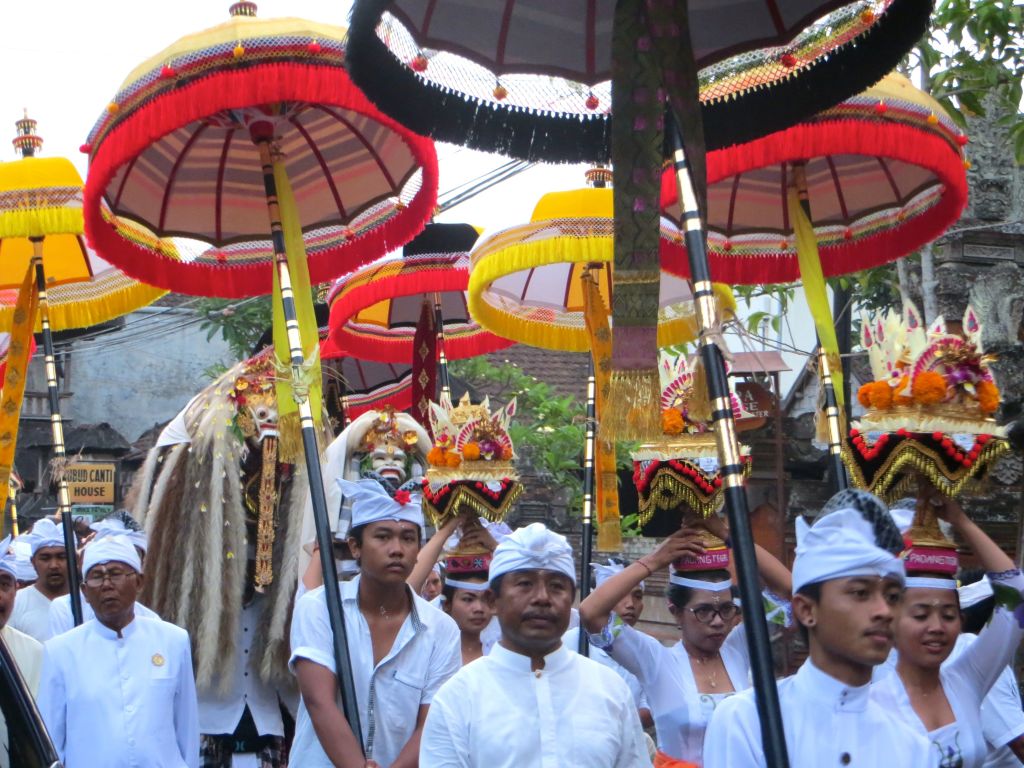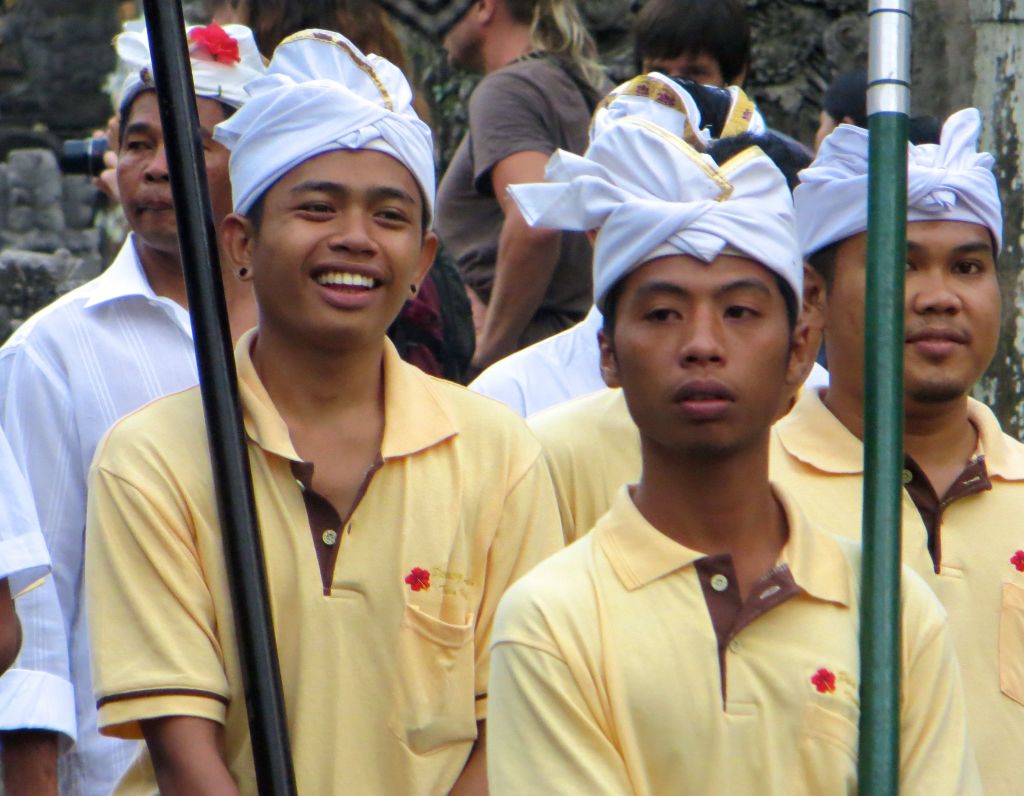 On the street where you live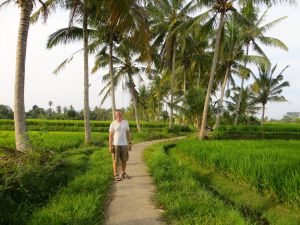 We wandered down one of the side streets to the north, which had minimal traffic and was lined with guesthouses, shops and restaurants. The tiles used to pave the street had been filled with messages from previous travelers all saying how much they loved Ubud/Bali, which we found to be a nice touch. We kept wandering up as the storefronts dwindled, until finally we found ourselves in the middle of some postcard-perfect rice fields. The road itself dwindled to a narrow concrete sidewalk on a dirt embankment, though the concrete had worn away in big sections, giving the scooters a fun track to navigate through. There were still a few guesthouses and restaurants, and we saw one lady getting a massage in a bamboo hut with what had to be the best view ever from a massage parlor. But mostly it was just rice farms, with the occasional farmer out tending his crop. We had smiles ear to ear just soaking up the amazing ambiance as the sun fell down towards the horizon.
Monkey see, Monkey want, Monkey get
One of the more popular things to do in Ubud is to visit the Monkey Forest. Which is pretty much what it says it is. Its is a forested park in town that is populated with hundreds of long-tailed macaques. People, of course, are irresistibly drawn to feed the monkeys, and over the years the monkeys have become habituated to getting fed by any person they see. Local women were running little stands all over selling bananas and other treats that you could feed them, which just about everyone did. The park itself also dumped piles of snacks for them, mostly cucumbers and other difficult to identify fruits and vegetables.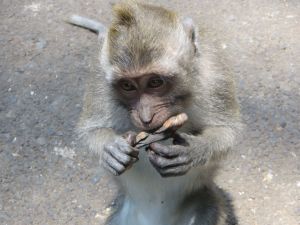 As we wandered the trails, the monkeys were everywhere. Climbing up the building over here, fighting with each other over there, sleeping on the trail over here, fighting with a tourist holding some fruit over there. The monkeys were actually quite aggressive if they felt that you had something that was supposed to be theirs. They did not like it when the tourists tried to feed them bites of a banana. They clearly viewed this tactic as sacrilege, and were not at all shy about skipping the bite and grabbing and taking the whole banana, by force if necessary. And if you had a bunch of bananas, they were equally offended if you tried to hand them just one. They wanted them all, right now, and they didn't ask twice. They'd jump on your arm and wrestle the bunch right away from you. Then they'd run off with their prize, the tourist looking pathetically after them, as the other monkeys now chased after hoping to steal the bunch away for themselves.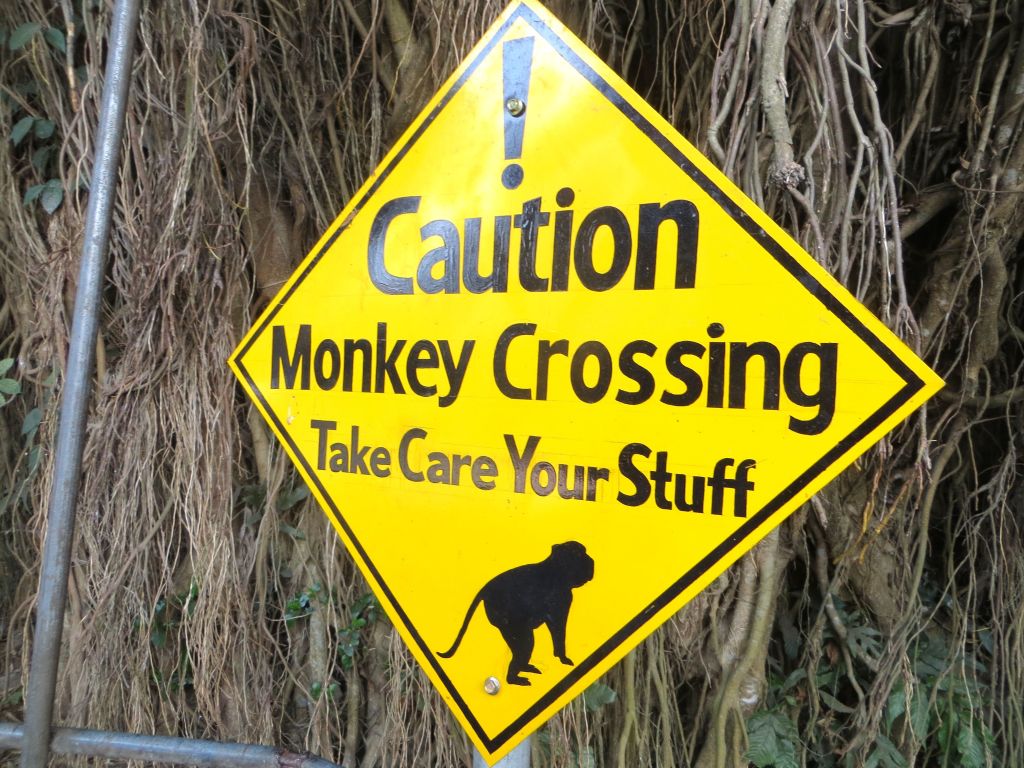 The monkeys reminded me a lot of toddlers. If they didn't get their way, they threw outright tantrums. If they decided they wanted to reach in your pocket to grab your cellphone, excuse me, if the monkey wanted to retrieve his cell phone which curiously had made it into your pocket, and you didn't just let him, they would scream and hop around and bare their teeth. We saw monkeys get into little fights with each other, and then heaven help the next tourist to walk by, because the "losing" monkey would often take out its frustration on whomever came by next. We saw one hop onto a backpack a girl was carrying, trying to get into it. The girl luckily didn't panic, but she couldn't get it off, and her boyfriend was just standing there helplessly, kind of like Sam Neill and Jeff Goldblum in Jurassic Park when the Tyrannosaur is attacking the kids in the car, knowing they should do something but having no idea what that would be. Finally the girl spun quickly around in a circle, which threw the monkey to the ground. Then she smartly ran away, because of course now the monkey was furious. With the offending party having escaped, the monkey turned its rage on the nearest target – David and I. It ran towards us, so we scattered, which unfortunately meant I went one way and David went the other. The monkey stopped in the middle of the path between us, agitated and screaming and just dared either of us to try and get past it. We actually had to stand there for several minutes as this angry monkey gave us a piece of its mind, until it finally got distracted and scampered off.
Many people were much braver, and, in my opinion, much stupider, and actually wanted the monkeys to climb on them. They would hold a banana over their heads, and the monkeys would climb right up to their shoulder to get the food. Then of course there was a little battle of wills as the monkey reached for the banana to grab it and run away, and the person tried in vain to get the monkey to pose for a photograph. The person taking the picture was NEVER ready, and once the monkey was on their friends head then they would reach for the camera, wait for it to turn on, and then want to spend two minutes framing and focusing. The monkeys were not having it and almost always won that battle, grabbing noses and hair and earrings and lips as they reached wildly for the food. The person with the monkey would be yelling "Get the picture!!" while the photographer fiddled, waiting for the monkey would look at the camera. It always cracked me up. As thanks, the monkeys often left behind little hand shaped poop stains on people's clothes. We did see one lady frantically spitting and wiping her mouth as we walked by, I can only imagine what happened to her.
But despite being disgusting, vile, mean and did I mention disgusting little creatures, the monkeys could, of course, be quite cute too. There were mama monkeys with little babies all over the place. The awkward and adorable babies would often try and run off to explore something or other, and the mom would just grab them by the tail to keep them from running off. We saw it happen multiple times, the baby actively trying to scamper away with the mothers hand clamped tightly onto their tails but casually looking the other direction.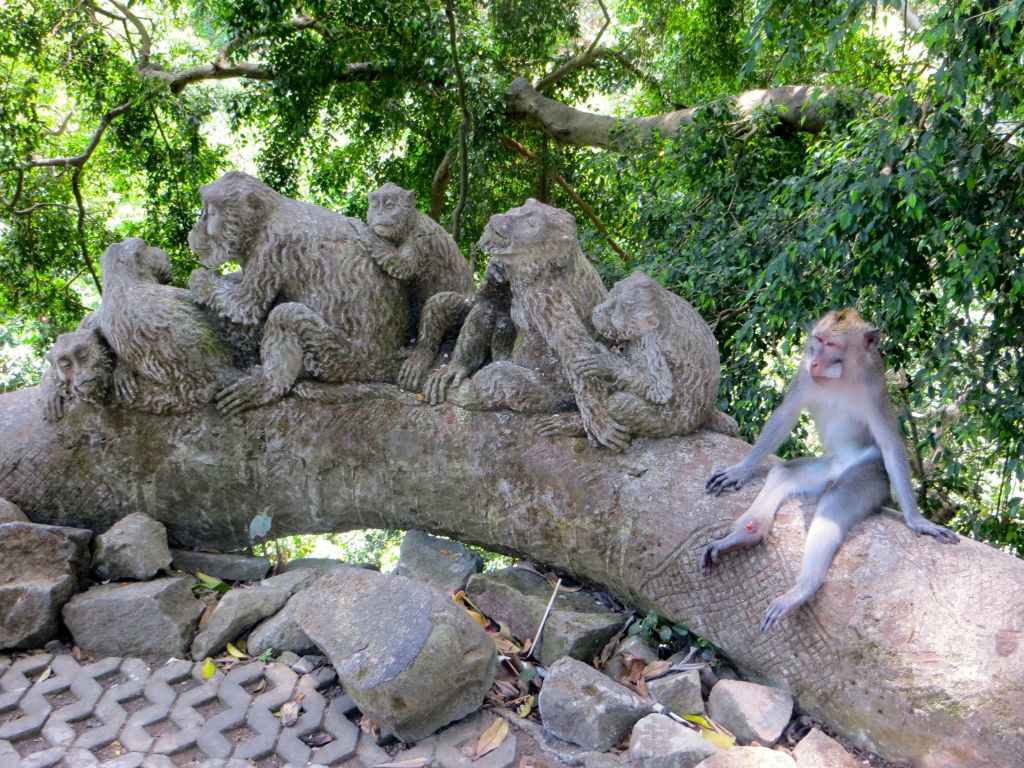 Also in several locations were large metal cages full of food to feed the monkeys with. The bars were extremely narrow, and the food was wrapped up tight inside large tarps, all designed to keep the monkeys out of it until the staff was ready to distribute it. But of course any time the staff wandered off, the monkeys would sneak over and try to get a fistful of something. The design kept them from actually getting much, but that didn't stop them from trying. The monkeys did seem to give the staff some leeway they didn't give to the tourists, and we wondered why that was. But while we were watching one of the monkeys try to get into the food, a staff guy came over and from a pocket pulled out a little sling shot from his pocket. The monkey took one look at that and bolted. The monkeys might not be smart, but they definitely weren't stupid.
Would you risk getting a poopy monkey hand in your mouth in order to get a photo of a monkey on your head? Tell us in the comments below!
Related Posts
Travel Stories: Borobudur
Travel Snacks: Java, Indonesia
Eating Bugs – complete with video!
All photos by Robb Hillman and David McMullin