We had landed on the Philippine island of Palawan into the city of Puerto Princessa. This was a one-runway kind of airport, where after landing the plane turned around and casually taxied down the same runway we'd just landed on to get back to the terminal. Apparently there weren't any other flights arriving any time soon.
After a night spent at a hotel that was literally about 200 yards out the front door of the airport on the main road, we wanted to head north to the beach town of El Nido. We opted to take the bus. And not the air-conditioned tourist bus. Nor the tourist mini-vans. We took the regular, local, non air conditioned public bus, partly because it was almost three whole dollars cheaper than the tourist bus (score!), but mostly because we knew it would be vastly more interesting. It did not disappoint.
7:01am. Catch a trike on the street. A trike is a motorcycle with a covered cab attached. It can fit two Caucasians, or about 11 locals. As we drive our driver keeps awkwardly leaning out and looking at something underneath the engine as we go. The ride is smooth (enough) and we don't hear anything (unusual), but he checks it about every five seconds for the entire ride, freaking us out. He does, however, manage to notice a pair of sunglasses sitting on the road in the middle of an intersection. He stops to pick them up, obviously pleased.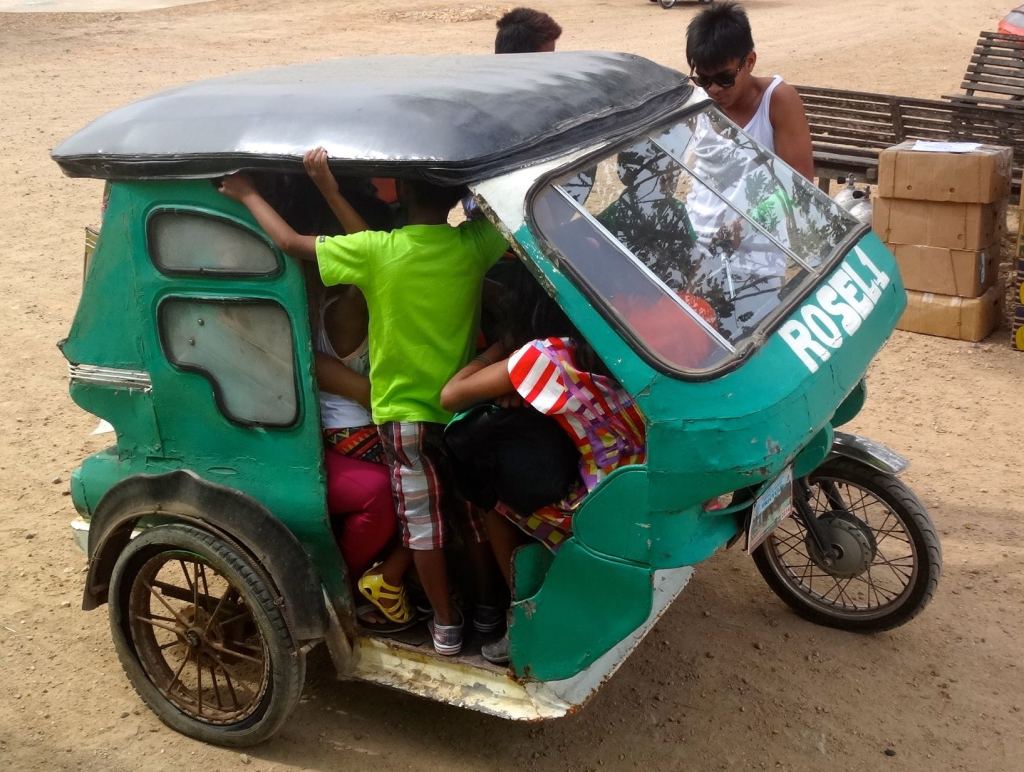 7:17am. Arrive at the bus station. The trike driver wants 120 pesos for his trouble, about $3. In the chaos of the bus touts who are now yelling at us to get on various different busses, David pays him 1020 pesos by mistake. He zooms off, extremely happy with his "tip" before David realizes what he had done.
Now, before we make too much fun of David, I will stick up for him a little bit that I'm rather amazed this is the first time that this has happened to us. (Well, that we know of.) When you are dealing with so many different currencies, it can be a challenge to keep it all straight. Here the extra 900 pesos cost us $20, which killed our daily budget but isn't so big a deal in the scheme of things. Had we made the same mistake in Thailand that 900 Baht would have cost us $28. Although in Indonesia, 900 rupiah is about 75 cents, so that would've been better. Ah, well.
I'd like to think the driver splurged and fixed whatever the heck was wrong with his bike. But he probably just went to McDonalds.
7:19am. We make it past all the touts yelling at us to get into their preferred bus/mini-van/whatever, and get to the ticket office of the bus we want. They confirm that the next bus is at 8, and should be arriving at any time. We sit on plastic chairs with a handful of locals. We are the only Caucasians at the station.
7:47am. The bus pulls in to the station.
7:48am. The driver waves us over and we board the bus. It isn't fancy, but we've seen worse. Two seats down one side, three on the other. We sit on the three seat side, knowing that no one will want to sit next to us until every other seat on the bus is full, potentially giving us a little extra room. Despite our smiles we know we are super scary looking.
8:00am. One other person gets on the bus. All of the people that were sitting in the plastic chairs are still sitting in the plastic chairs.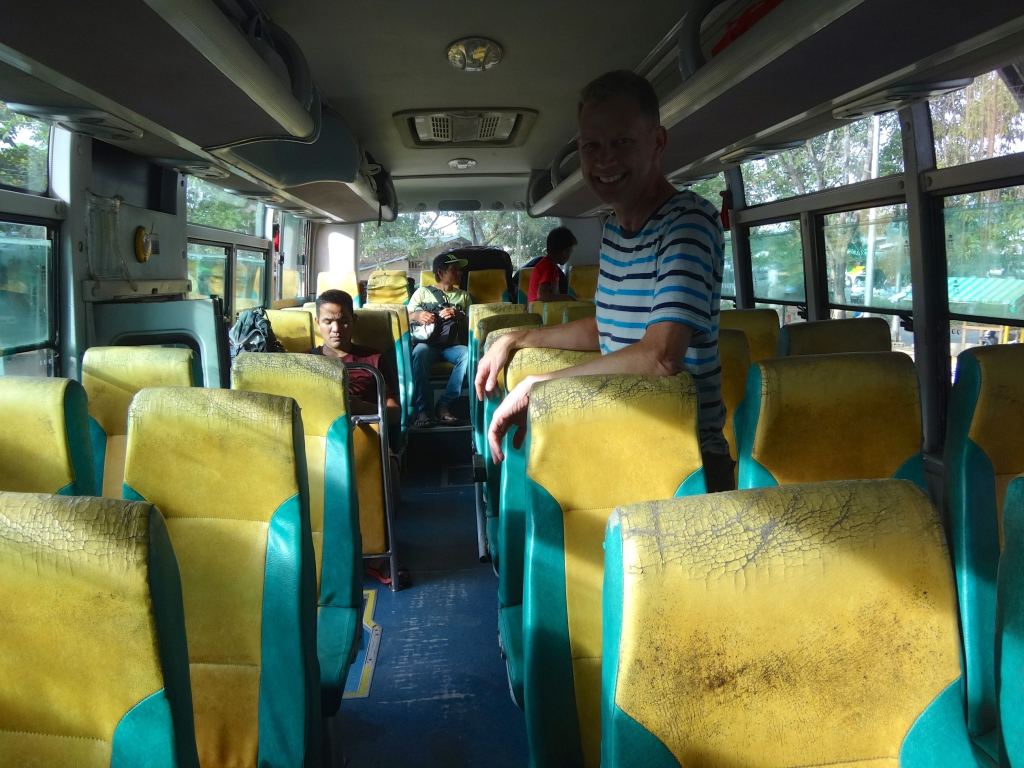 8:20am. We begin to suspect that the people sitting in the plastic chairs outside know something we don't.
8:32am. The driver gets on the bus, followed by a rush of others. One guy gets on with three cardboard boxes, each with a live and noisy chicken in them, tail feathers coming out of the folds in the cardboard. The driver pulls out into the driveway and stops. There is a loud beeping noise coming from somewhere that doesn't stop. He honks. He honks again. A child is crying. The chickens are clucking.
8:36am. We slowly pull out of the station onto the street. The driver immediately pulls over to the side of the road and stops. Surprisingly, more people get on the bus. The assistant begins a strange game of musical chairs as the seats fill up. We have no idea what he is doing or why he is making so many people change seats with each other. (He ignores us.) The three seats in front of us are filled with an adult man, two adult women, a pre-teen, a toddler, and an infant. One woman is holding the infant in her arms with the teen sitting on her knees. They are all smiling.
8:39am. The driver turns on music. Now, we've heard lots of styles of music played on these kinds of busses. In Bohol, it was an endless medley of a man and woman alternating singing every song you've ever heard from the 1960's. Sometimes it is local pop music. But this time it was "The Greatest Ballads of the 80's". I hear "Will You Still Love Me" by Chicago and "Where Are You Now" by I Don't Remember Who back to back, and I settle back into my seat, perfectly content.
8:49am. "Crazy For You" by Madonna.
The bus driver gets back on the bus. The bus is full. He honks the horn.
8:52am. "Take A Look At Me Now" by Phil Collins.
The bus driver honks the horn again. I think it's noise, he thinks it's pretty.
8:54am. "Hands To Heaven" by Breathe.
The 8am bus departs.
We notice one other Caucasian couple made it on the bus at the last second, but by then they were forced to sit in the very back of the bus, next to chicken boxes. The chickens cluck every time we hit a bump. There are a lot of bumps.
9:32am. "Carrie" by Europe.
The bus stops. The driver gets out to pee in the bushes right next to the bus. Everyone pretends not to notice our driver peeing in the bushes. He gets back on, and we resume.
10:09am. "Lady in Red" by Chris De Burgh
The bus stops on the side of the road by a restaurant. The driver and his assistant get out and sit down in the restaurant. They casually order, wait for, and then eat some breakfast. Most people stay on the bus to wait so they don't lose their seat. The driver kindly leaves the engine running so the music doesn't stop.
10:27am. "Alone", by Heart.
After a post-breakfast cigarette, the driver gets back on and starts driving again.
We don't seem to be driving very fast, but I have no idea how far we have to go. The estimates I read ranged from six to nine hours. We stop a lot to pick people up along side the road, others shouting when they are ready to be dropped off.
11:40am. "Eternal Flame" by the Bangles
We pull into a bus station in a town called Roxas. Most people get off. I'm guessing we are staying a few minutes, so I get off too. I try to find a toilet, but fail.
In the empty lot across the street is a huge Santa in a sleigh with six awkward looking reindeer. It looks like it is made from paper mâché, and it's kinda awesome. The sun is so bright it gives me a headache, so I get back on the bus.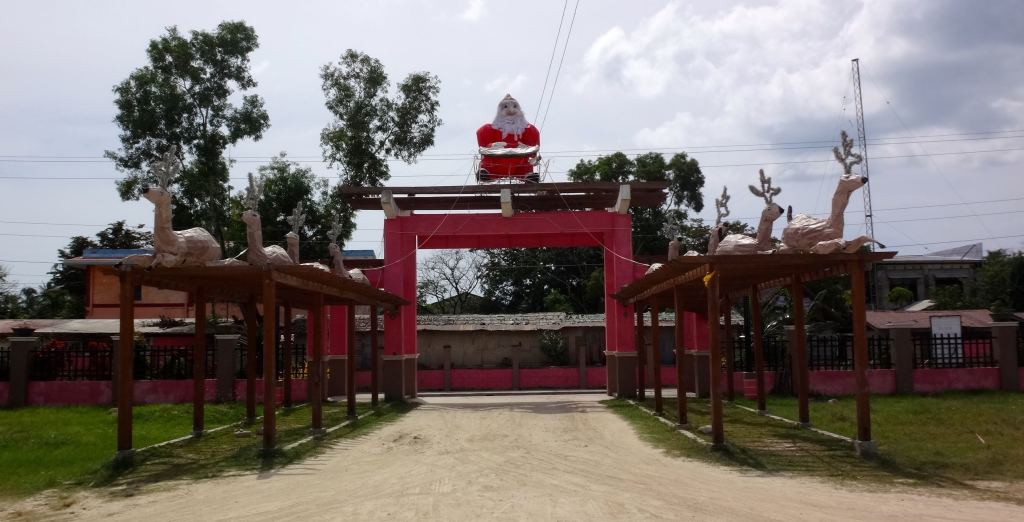 11:58am. "Total Eclipse Of The Heart" by Bonnie Tyler
The driver boards. He honks the horn. He honks a different sounding horn. There is much yelling. We depart.
I notice a lady with a shirt that would make any consumer proud. It had little Mickey Mouse heads, which were emblazoned with the "M" you see on M&M's. There was also the Target Logo, and the word "Barbie". Except "Barbie" had been misspelled and instead said "Borbie". But it was the same logo. I'm not sure what to make of the fact that I recognize the Barbie logo type. I imagine what a doll named Borbie would look like.
1:43pm. "Listen To Your Heart" by Roxette
We pull into another bus station, in the town of Taytay. The driver surprises me by shouting "TEN MINUTES! TEN MINUTES!
People start to get off and as the driver exits he shouts again "FIFTEEN MINUTE BREAK!"
Vendors swarm the bus selling ice cream sandwiches. Are you picturing an ice cream sandwich? Well stop it, because that isn't what I'm talking about. These ice cream sandwiches were more along the lines of ice cream hamburgers.
The vendor would scoop ice cream onto hamburger buns. And not one kind of ice cream, but a mix of four. There was white, brown, orange and purple. All stuffed between the hamburger bun, put into a plastic baggie, and handed to the person on the bus. It was quite amazing.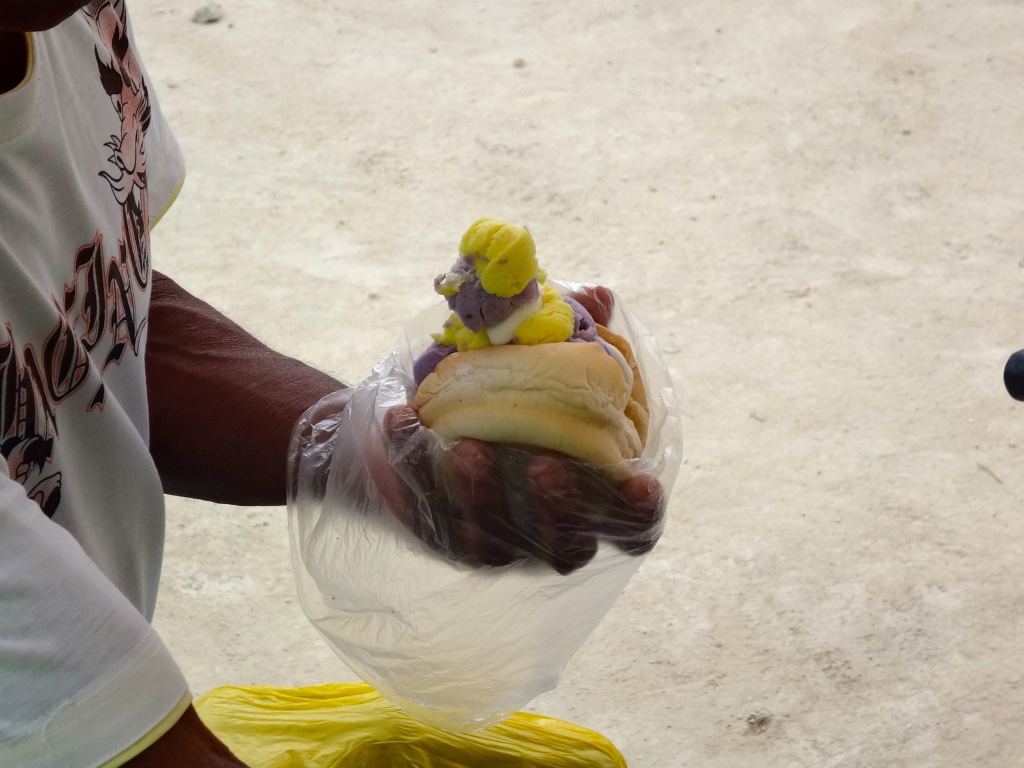 I was tempted to get one just because (they were 25 cents), but I've been trying a new thing where I only eat when I'm hungry, and I wasn't. The purple ice cream I'm pretty sure is called ube, which we tried in Bohol, and it was delicious. I don't know what an ube is.
(OK, I looked it up for you. It is a purple yam. I can't believe I ate and liked yam flavored ice cream.)
2:07pm. "Is This Love" by Whitesnake
We depart. Apparently the bus driver meant there would be a ten minute pause, followed by a fifteen minute break.
2:15pm. "Mandy" by Barry Manilow. Huh. A 70's song snuck into the mix.
The bus driver is still the same, but the attendant has changed at each station. One thing I've noticed in Asia is that they love issuing tickets for things. Often you will buy a ticket at a counter, then have to walk to the next person sitting at the counter who will then take it from you. Most of the time on busses you will be given a ticket, which you stick in your pocket to throw away later. Today though the new attendant walked around checking everyone's ticket. Luckily we still had ours handy.
2:48pm. "Always" by Atlantic Starr
We've noticed the driver is speeding up. Usually people along the road wave when they want to be picked up and he stops. Now he is just speeding by them as they look on in dismay and confusion. We aren't any more full than we were before, it just seems like he is in a hurry and doesn't want to slam on the brakes. You know how when you want to indicate that something was "just ok" or "meh", and you make that little shaking gesture with your hand? We noticed he would sometimes do that to the people he was speeding by. I assume it means something different here. Something like "Can't stop, I've got a date in town tonight" or "Sorry but this is the bus for hotties, not notties!"
3:03pm. "Nothing's Gonna Stop Us Now" by Starship.
Road work. The driver is forced to slow down to navigate the one lane dirt road detours around where they are laying new pavement. There are also multiple military checkpoints with blocks that force you to almost stop, but even though we go through about five of them, no one is ever manning the booths so we never actually stop. In front of one is a big sign that says "This is where your tax dollars are going!"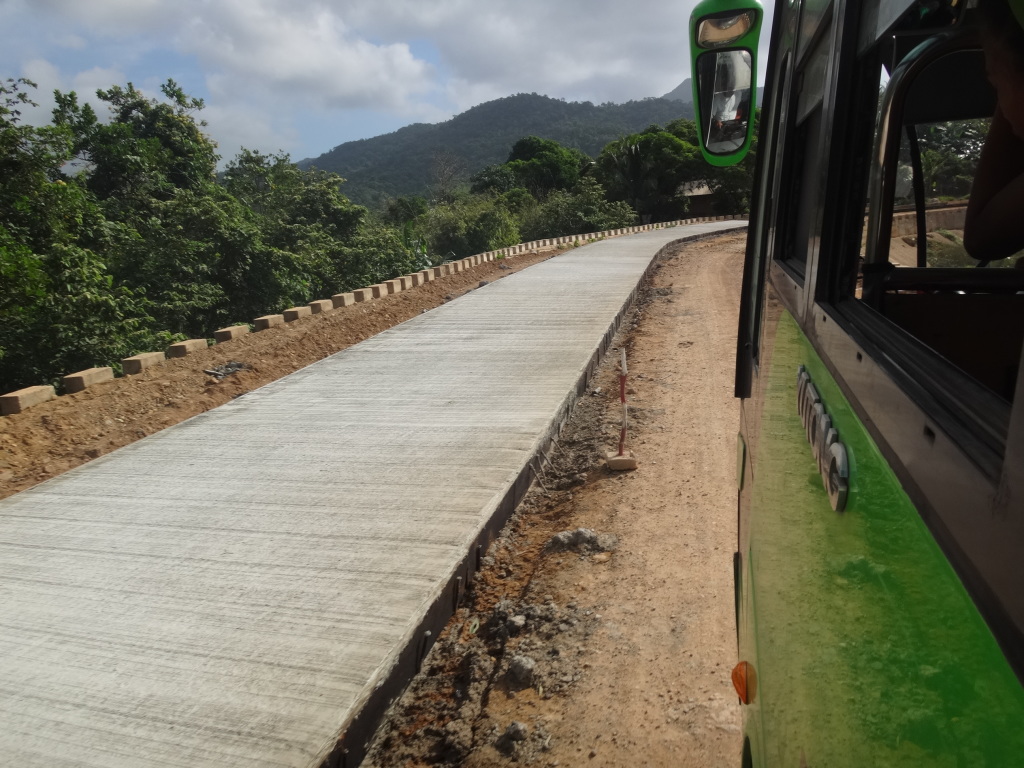 3:25pm. "Gonna Give All My Secrets Away" by OneRepublic
Apparently we have played the entire catalog of 1980's ballads. We move seamlessly into contemporary ballads.
3:40pm. "One Last Song" by A1
We arrive! And I swear I'm not making it up, "One Last Song" was playing. I wrote it down! (It was the only song I had to google to know what it was, but that was it!)
As we sat on the bus waiting for everyone to get off (our bags were stowed in the very back behind the chickens) we saw a lady wearing a white t-shirt that said "I (HEART) Pope Francis" out the window. She was walking near the bushes with a big rooster on a leash. You know, taking your rooster for a walk, as you do. As we were giggling about that, another man walked by and saw her. When she saw him, he made evil eyes at her, pointed at the rooster and made a slashing gesture across his throat. They both laughed.
I love the Philippines.
Related posts
Vim
Haw Par Villa is my favorite thing in Singapore
The Bone Church in Kutná Hora