OMG you guys, but traveling is crazy awesome.
We had heard about Yi Peng, the Lantern Festival up in Chiang Mai Thailand, was happening while we were in the region and knew right away we wanted to go. We had seen a small-scale floating lantern release before when vacationing in Hawaii, and we figured a sky lantern festival would be even more impressive. And we weren't wrong, we just wildly underestimated exactly how much more impressive it could actually get.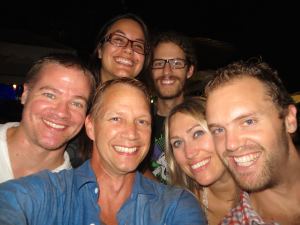 We were lucky enough to have two other couples to hang with, Travis and Heather from Extra Pack Of Peanuts, and Chris and Tiffany from Little Big Honeymoon. After meeting at the World Domination Summit, we all knew we would be in the area so ended up staying at the same hotel. Sometimes things are just more fun when you have people to share the experience with. In fact many of the photos I'm using for this post were taken and graciously shared by them, as they are far more tech savvy with their cameras than I am.
The festival lasts several days, following the cycle of the full moon. The first night we just walked around the old city. There were stationary colored lanterns decorating the city, which was a nice touch. And from various bridges that span the moat that surrounds the old city, people were letting off the sky lanterns. Small groups of people would hover around the lantern as someone lit the wick underneath, laughing with each other as they waited for the flame to heat the air enough to begin lifting it up into the starry sky. There were often false starts, as people would push the lantern into the sky with their fingertips, only to have it come right back down on their heads. There would be more laughter as they waited a few moments longer to try again.
Once the lantern did fill with enough hot air to achieve lift, it would gracefully rise up into the air, riding invisible currents of air as it meandered its way up into the heavens. Sometimes they would shoot straight up into the sky and be gone, blinking out as they passed through the clouds overhead. Other times they would linger, skirting trees and street lights on their slow journey up. We did see a few get stuck in the power lines, with everyone on the ground groaning and mentally willing the lantern to somehow work its way free. One I saw get hot enough that it worked its way between two power lines until it squeezed its way through. Another bopped and bubbled below a knotted tangle of lines, the owners on the ground shouting encouragement. The lantern went sideways and seemed just about to burst into flame when a stray breeze caught it and blew it out to safety. Everyone on the street cheered.
Fire and wind. On a full moon. It is the ultimate combination.
Of course we all wanted to release our own. We approached the guys selling the lanterns and found out the large lanterns, which were about four feet tall or so, were going for 70 Baht, about $2. The smaller ones went for 20 Baht, which at first seemed good enough to us. We assumed the smaller ones would be easier to let off, since they were smaller and weighed less. But as we waited for the lanterns to heat up, the smoke began billowing up underneath, the flames hot to our fingers grasping the bottom of the lantern. And we quickly realized that the large lantern are actually easier to release. Proportionately they weigh much less and have much more space for the heated air. Our little ones took longer to heat and than the large ones that would quickly fill up and then shoot up into the air. Once in the air though, they were just as graceful and beautiful as the rest. We did choose the bigger ones for the rest of the event – we are quick learners.

The next night we went back. It had been raining all day, but stopped shortly before dark. Ominous clouds were still in the sky, but we weren't going to let the threat of a little water ruin our fun.
We walked down the street from our hotel, talking and laughing and not really paying attention, so when we reached the moat that surrounds the old town and turned the corner, I looked up and stopped, dumbfounded. The previous night there had been what I thought were a lot of lanterns. I could see them in the air from all directions. But I was not at all prepared for this. Looking around there were hundreds upon hundreds of lanterns in the air. Sometimes it was a string of them, clearly rising from a common release spot. But in other directions it was just a mass of little reddish-orange lights rising peacefully through the sky. It took my breath away.
As we got closer to the action, we realized how there could be so many, because the streets were packed. Locals and tourists alike were pouring into the streets, carrying lanterns to light and umbrellas just in case. There was a parade with floats, each section led by a pick up truck carrying a generator, which powered lights and sound equipment being used by several floats following behind. Then there were dozens of guys who ran along the outside carrying the sometimes crazy long extension cords that led from the truck to the floats. Some of these sections were quite long, and it could be quite the production getting the entire section of four or five floats, with people in exquisite traditional Thai costumes walking and riding in between, to all move in concert so that no one surged or lagged which could cause the extension cord to unplug the float. Let's just say there was a lot of shouting. It was in Thai so I couldn't understand, but I assume it was a lot of "EVERYONE GO!" mixed with "STOP! EVERYONE STOP!"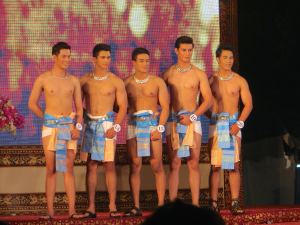 There was also a large stage where they were having a pageant, with both male and female contestants competing. We couldn't understand any of what the two hosts were saying about them so weren't really able to follow it, but walking by at various times we saw some various elaborate hairstyles and gowns on the ladies as they floated gorgeously around the stage in turn. The guys though weren't quite as, uh, elegant, and when it came to time to walk around the stage shirtless, they all had various degrees of awkward inability to walk slowly and smile at the same time. It was hilarious, but the crowd loved them all the same.
Many people were just releasing their lanterns from the street, but there were always large groups in each of the temples we walked by. Some of the temples had live traditional music and dancers, some were overseen by monks, and they were all lit and decorated with colorful lanterns attached to posts and hung from trees.
Most people were using plain white lanterns to release, but some families with children had ones that had been decorated with cartoon characters. I saw one that looked like a jack-o-lantern.
The purpose of the lanterns is two-fold. According to a local woman we met, the lanterns are a way of thanking and apologizing to the gods for the earthly resources we use that they have provided us. But also we can fill the lanterns with our pain and sorrow and then just let it lift up and float away. Many people also make a wish as they release them. Some also write messages to or for loved ones to be carried up into the sky. My sister Rhonda's birthday was coming up, so we dedicated our first release to her. I hope she got her wish!

As we walked down the street, lanterns rising all around us, I had a one of those moments you hear people talk about, especially travelers. You know, when time seems to slow down and everything you are seeing/hearing/feeling seems to fill you up to bursting. It felt like I was walking through a movie set it was so overwhelmingly beautiful. But it wasn't, it was real life, and I felt like I had been given such a gift to experience it. Maybe I'm just a sap, but I wanted to cry I was just so moved by it all. It was magical. Real life magic.
We squeezed through the crowds down the street until we finally reached the river. Here, in addition to the sky lanterns, people were also releasing little floats made of banana leaves, flowers, candles and incense into the river. Fire floating downriver and fire flying downwind. (Which happened to be in opposite directions.) Then there were people with fireworks. It wasn't the mayhem of the Vegetarian Festival down in Phuket, but there were a few surprises. Besides the roman candles, there were some that people would light and throw into the river. Somehow the wicks stayed lit, and the firework would do its thing under the water, somehow sending bursts of bright color up through the surface, which was actually quite beautiful. Others were like depth charges, and would just explode, loudly, with a boom and a splash that would send people into shrieks of laughter.
So many people release lanterns that, apparently, the airport all but shuts down during the festival. In fact down in Bangkok, people who are caught releasing lanterns there are subject to punishment including the death penalty, depending on how much damage their lantern does. We did see the lanterns impossibly high up into the sky. As you watched the lanterns float, you would sometimes catch the shadow of a lantern that had lost its fire and was gently falling back to Earth. We called them the ghost lanterns, and they were almost just as beautiful as the rising lit ones. I can only imagine what the litter is like for the people living downwind though. And you have to wonder how many fires get started. We saw more than one fully lit lantern stuck in trees or falling onto rooftops.
When we finally made it home, we stood on a table on the roof and just surveyed the area. It was close to midnight by then and still the skies in almost all directions were just thick with lanterns. And I kinda realized – they looked like stars. Well, stars that were especially orange, and that were moving. But still. Most of us that live in cities don't have the opportunity to see the stars anymore, there is just too much light pollution. The beauty of the lantern festival is what our ancestors probably saw every single night after the sun went down. Though I remain a fan of electricity, I still found myself mourning the loss of the stars.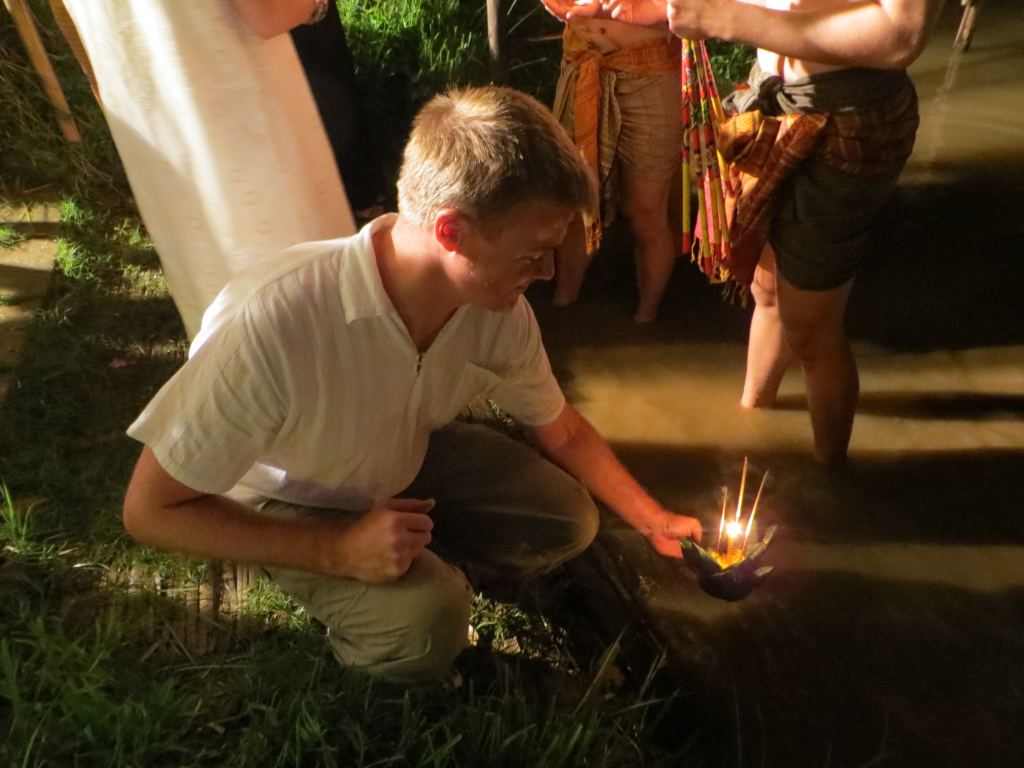 If you ever have the chance, I highly recommend you get yourself to northern Thailand to see the festival. Be warned, before it started we were looking on the internet to find the dates, and ran into some difficulties. Because the festival is tied to the moon cycle and not to an actual date, they change year to year. Getting up to date information on the current year can be challenging! In fact there is a mass release not in the city but farther out that we really wanted to go to. It is a religious ceremony presented in Thai and isn't intended for tourists, but anyone can go. Despite everything we read about the festival being on the 5-8th this year, when we arrived we were told the mass release had been held on the 28th and we had missed it. Others told us it had been the 25th. In any case, we missed it, and getting reliable information is not as simple as it would seem. At least it happened before we arrived, poor Tiffany and Chris were even in the city and missed it.
Luckily for us the public stuff in the city was more than enough to make this traveler happy. I didn't expect it to be this good. This is why I travel.
Main post photo by Heather Sherry. All other photos, unless otherwise noted, are by Robb Hillman or David McMullin.