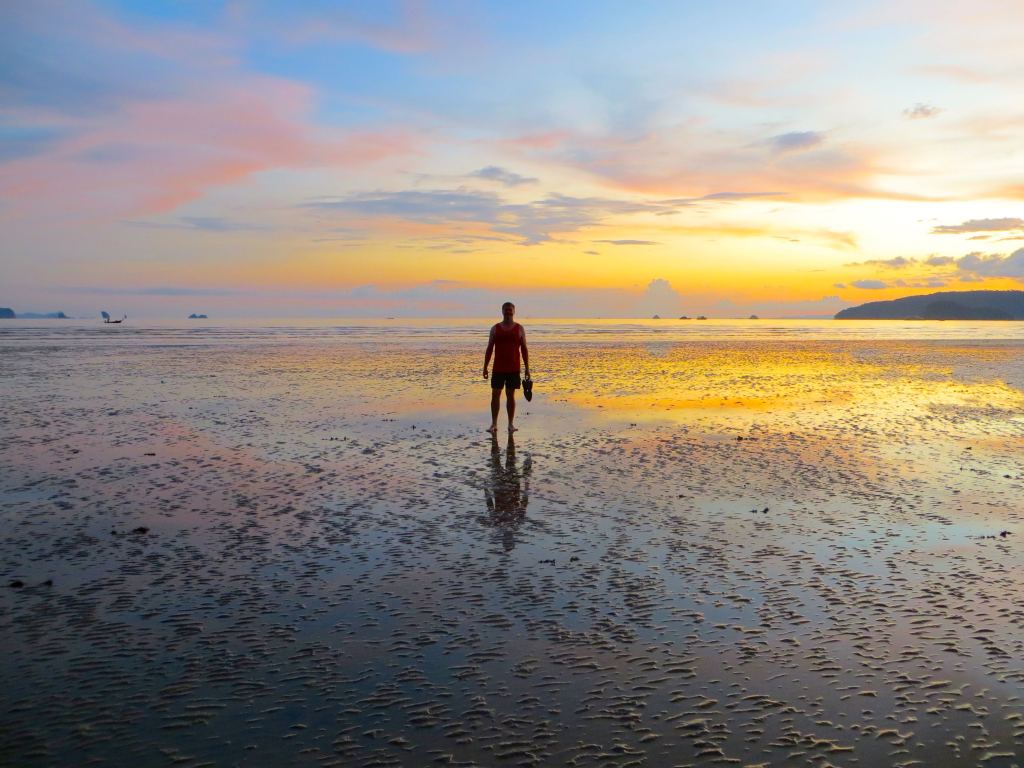 The plan was to come to Thailand for a month, and to settle down in one place for a while. But since the place we were looking at was deep inland, we decided to spend just a few days at the beach first. Because beach.
We flew into Krabi airport from Singapore and took a shuttle to our hotel in Ao Nang. We had found a cute little hotel with brightly painted rooms and upgraded for a view of the ocean. We weren't right on the beach of course, there were several other properties in between, but we were up a hill and for us it was pretty fancy.
That afternoon we headed down to the beach. Our hotel was actually located right in between two beaches, the popular Ao Nang beach and the one just north of it which I think is called Naparat, which was separated by a large outcropping of rock. We went to Naparat, for no particular reason, which turned out to be a good choice.
The ocean at this beach is quite shallow, and we arrived as the tide was going out. So the beach area had stretched out hundreds of feet, and even after you did hit the waves you could walk extremely far out and still just be knee deep in the water. This made for excellent conditions for finding crabs, and boy were there lots of crabs to find. The beach was covered in sand crabs. They dug burrows in the sand and when excavating they would roll the sand up into little balls which they would distribute in patterns around the entrance. This could be quite beautiful, and we had seen it in Phuket (which was just out across the water after all), but here there were so many of them their nests all crashed into each other. In fact as the sun got lower in the sky and more of the crabs came out of their nests and got braver, it turned into a swarm. I've never seen anything like it. Thousands of little crabs running around on the beach, so many that is was impossible not to step on them. That part was kind of gross, so we got past their neighborhood and closer to the water pretty quickly. There is a reason this beach doesn't get a lot of sunbathers.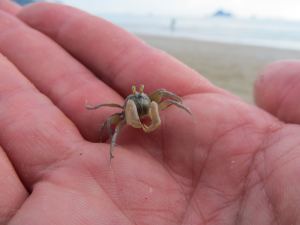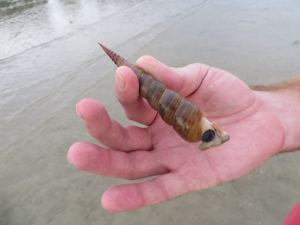 Right where the water hit the shore were the hermit crabs. Now I've seen hermit crabs in lots of places, but I was just overwhelmed by the sheer number of them here. Tiny little guys in exquisite little shells, running all over the place. The sand was soft, so even though I was barefoot I didn't feel so bad about stepping on them, because they just sunk down in the sand a little and came right back up, shaking their claws at me in indignation. (Or was I just imagining that?) Mixed in with the crabs were also a couple of varieties of sea snails, digging through the sand. Most were as small as the crabs but one variety was in a large cone shaped shell. The snails and the crabs didn't seem to mind each other much, but the crabs would often fight with each other. This could tempt one to set up an arena for them, just to see them slap at each other. I mean, I'm just saying it could be tempting. If you were inclined to play with hermit crabs. And even if you were in your 40's.
Just into the deeper water was another kind of swimming crab. There were much fewer of these, and they would mostly try and stay away from us, but we could catch glimpses of them swimming away or burying themselves in the sand if we did manage to get too close. It was pretty cool. A couple of times though in their effort to hide they would dive right under your feet. That was a little more creepy. (They weren't, apparently, the smartest of crabs.) I didn't need a crab pinching my toes because I stepped on it, so this would always initiate an awkward and panicky dance as you struggled not to step on something that you could no longer see.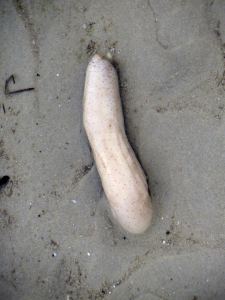 The tide got so low we were able to walk out to some big rock formations that were usually cut off from shore. There were a handful of kids running about digging through piles and piles of shells looking for perfect ones. We explored a bit, and out in the water found ourselves staring down at the sand feeling quite disturbed. We could see just a big white and hairy tongue sticking out of the sand, it must have been a good 12 inches long, sloshing around as the small waves came in. A local saw us looking at it and squealed and shuddered when she saw it, which was enough for us. It was probably some kind of clam or something, but we didn't mess with it to find out. Later we saw another one that was whiter and not as hairy. We were very glad we didn't step on either.
We had been walking around for a couple of hours now, but as the sun finally set over the horizon, we looked up and the sky erupted into brilliant oranges and purples and blues. It was one of the most spectacular sunsets I've ever seen, the clouds moving and changing color and at times it was like the sky was full of glorious fire. Earlier that day we had received the very sad and disturbing news that a friend of ours, Matt Naegli, had been in a car accident and had passed away. He was young and crazy talented and warm-hearted and it was obvious to everyone who met him that he was a special soul who was destined for great things. His passing was hitting people hard, even mitigated in a small way by the fact he was an organ donor and several strangers had their lives saved by his death.
We had been struggling with the news, but as we looked up David said "This sunset. This is Matt." I don't know if that makes any actual sense, but at the time we both found it very comforting. A magnificent sunset for a magnificent person. He is missed.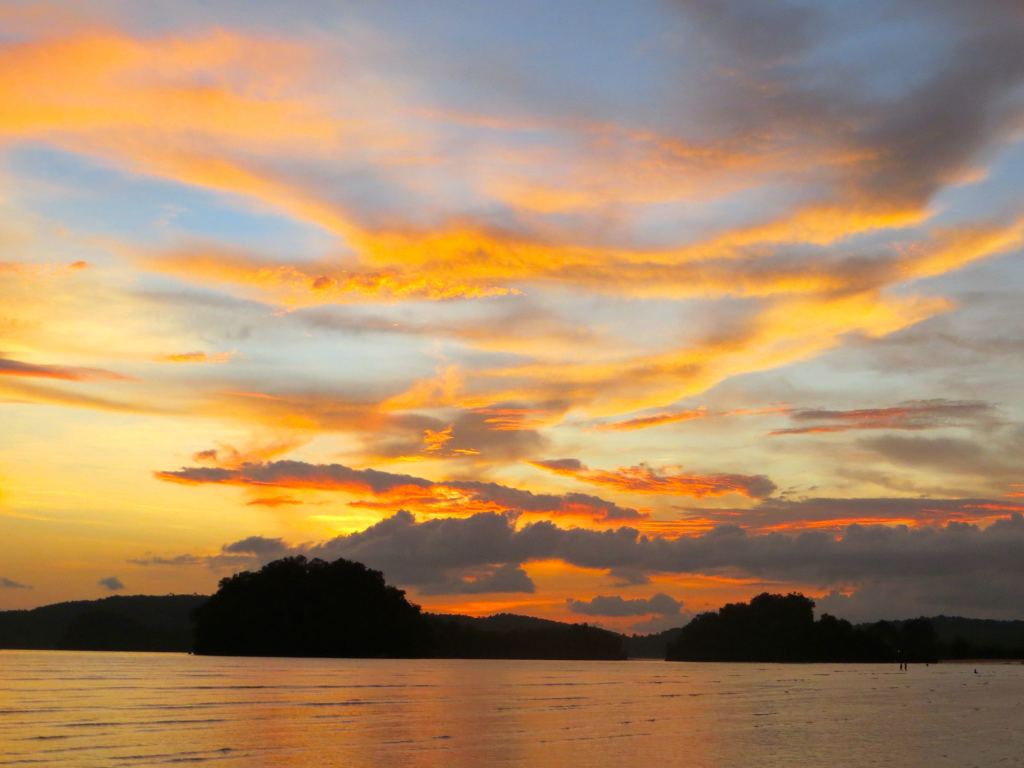 We returned to the beach every night, but the low tide never quite matched up with the sunset again, and none of the sunsets were quite as brilliant. Still, we enjoyed it. We also went down to the much more popular Ao Nang beach, where the sand was softer and thicker which kept the crabs away, making it a better place for people to congregate and lay out and play. The distinctive long-tail boats acted as ferries taking people to various other beaches in the area, so there were always several around, coming ashore and exchanging passengers.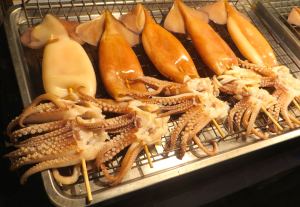 Our favorite place to eat turned out, not surprisingly, to be a small collection of food carts. They served traditional dishes like fried rice and pad thai and various soups and noodles. But they also had access to all that fresh seafood, so would grill fish and shrimps and squid. We got a whole squid one day that was being grilled over an open flame. While I wouldn't say that calamari is my favorite thing ever, I had to admit that this was the best I had ever had. Very tender, not rubbery at all. These ladies knew how to cook it! And we got the whole squid for about $1.50.
A few other notes:
— While walking up a pathway in the trees, David grabbed a rope and got a fistful of wet goo, which was probably monkey poop. Bwa-ha-ha!!!
— We had our first encounter with a disturbingly gorgeous Thai ladyboy, who was working at the local convenience store and could barely be bothered to ring up our sale while talking on a cell phone.
— We kept delaying buying our airline ticket up north, mostly because we are just indecisive. But when we finally bought it, we found it had dropped in price! Then when we booked our shuttle to the airport, we talked with a different person than we had originally and were given a cheaper price for that as well. All in all we saved almost $50, which is a full days budget. We were extremely proud that our laziness paid off so well. (Notice I don't blog about it when it doesn't.)
— While on one of our long wandery walks we came across a memorial to the 2004 Tsunami built back in the trees along a long wooden boardwalk. It was clear we were the first people to visit it in quite some time. The wood used to build it had never been treated and was rotting away, and we had to be careful where we stepped not to break right through. It was kind of sad, really. Why it had been built so far away from where anyone (but us) would go, and why it had not been kept up is a puzzling mystery. The area here had been hit quite hard, and I was surprised the memorial wasn't given more respect. I'm sure there is a reason, whether it was a vanity project to build it in the first place, or maybe they don't find it a priority to dwell on the past, or who knows.
Our three days came to an end quickly, as those things tend to do. Then we were back on the shuttle to fly up north to Chiang Mai and the Lantern Festival.