*Warning* This (or any) post about the Vegetarian Festival in Thailand is not for the faint of heart. When you travel the world, you are exposed to a wide variety of cultures, traditions, and practices. Since we rarely fully understand what we encounter, sometimes these things are humorous, sometimes they are frustrating, and sometimes they are downright disturbing. As I've stated before, I am not an expert in everything and can only describe my experience with what I saw and how it made me feel in the context of where I was and the energy of the people around me. For you, just looking at pictures is even more removed and will likely seem shocking. I will leave those pics at the bottom of the post so you can read more before deciding whether to scroll down and look at them or not.
When we were researching our stay in Phuket, Thailand (it is pronounced "poo-ket", get your mind out of the gutter!) we saw a little blurb that our trip would coincide with the beginning of the Vegetarian Festival.
"Oh cool," we thought. We aren't vegetarians, but we do love vegetables. We liked the idea of being able to try some delicious food at a festival. How naive we were.
As it turns out, there is a lot more behind the Vegetarian Festival. The origins of the festival are obscure, but as the story goes all the trouble was started, not to my surprise, by a group of actors who visited from China. The troupe fell ill with malaria, and they felt it was because they had neglected their Taoist worship of the Nine Emperor Gods. To appease them, they ate a strict vegetarian diet for nine days and, apparently, performed some ritualistic body mutilation. At the end of the nine days the troupe was found to be miraculously cured from what, at the time, was a fatal disease. The event became an annual nine-day event, with various rules and traditions. Participants wear white and try to stay morally clean – they eat vegetarian so they don't kill anything, they abstain from alcohol, drugs and sexual activity, and are supposed to remain pure of heart.
And yes, you did read that bit right, I did say ritualistic body mutilation. Which is what's coming.
Luckily David is all about being prepared for our adventures, so he did discover what was going to go down before we arrived. I don't even know what we would have done if we had been unprepared, just expecting people to be eating lots of carrots or something. But after learning the truth, we made sure to ask around and get some different perspectives and opinions before we decided to actually attend. Importantly, we were assured we wouldn't just be a couple of lone, gawking tourists in the middle of a religious ceremony, otherwise we never would have gone. In fact they did have events in various shrines across the city, things like fire walking, as well as something called a "blade ladder" and "nail bridge", but we didn't feel comfortable going to ceremonies held in a place of worship, even though we were told it would be ok.
We ended up attending three days of the festival. We actually delayed our flight a week in order to attend the closing days, and moved from the lovely hotel we were staying at in Karon Beach over to Phuket Town, where most of the events were. We left our room early the first morning to catch a procession wending its way through town with ample trepidation, not sure what to expect. And what we found was what we expected, but with a few surprises.
To put it bluntly, the most common practice we saw was cheek piercing. And I don't mean with a tiny little earring, I'm talking pins and rods and knives and swords. They would sometimes pierce through both cheeks, but usually the object would go through one cheek and come out through the mouth. Sometimes it was just one item. Sometimes it was several. Sometimes it was too many to count. One guy had five big knives through each cheek, fanned out to demonstrate his feat. Sometimes it was a decorative blade with jagged edges. Sometimes it was weirder things, like one guy who had a fistful of metal rulers through his cheek. Some of them would put various stalk vegetables and plants through their cheeks. One guy used a massive tree branch, it was mind-boggling!
Sometimes they would take long metal pins and stick them through their cheeks, lips, tongue, scalp, and maybe even torso. Fishhooks with decorative tassels might be pinned into their skin in patterns along their faces, arms, and/or torso. Some of them had quite the eye for design, creating patterns with different colors and lengths of tassels that almost made it look like the guys were wearing shirts. We saw one group of four guys walking down the street carrying long swords, but they weren't pierced. Just as we were about to question what they were doing, the moment they got in front of us, they gathered into a group and began swinging their swords over their heads and hitting their backs. We (along with everyone else) fled backwards to avoid any splattering blood.
And yes, there was blood, although far less than you would expect. The bloodiest (and for me worst) thing we saw were people who were walking around with knives and swords and whatever, and every so often they would stop and run their tongues over the blade. Sometimes they would spit the blood on the ground, sometimes they would let it drool out onto their torso. Their blade was always of course smeared with blood. As a nurse I have seen my share of blood and wounds, but it was the tongue cutting that I had the biggest problem with. We saw one guy that was carrying a six foot long tree saw, and I could hardly bear it. Luckily the tongue cutters were in the minority, and I'm sure the damage they were doing was mostly for show, I don't think anyone was in any danger of actually cutting their tongue off or anything.
So clearly there was a lot of bleeding happening, but not at all to the extent we had expected. Most of the cheek wounds were surprisingly blood free. Rather, most of the people who had impaled their cheeks had whatever the item was coming out of their mouths which prevented them from closing their lips, and so were drooling heavily. Often times the blades and wounds were clearly lathered up in Vaseline to help keep things moist.
And here is where things got more interesting for me. The people who had impaled themselves or whatever, were all in varying degrees of a trance-state. After all, how else are you going to tolerate getting pierced without anesthetic, using only Vaseline and, we heard, betadine. Also, the things they used to pierce their cheeks were often long and unwieldy. I can only imagine the disaster if someone tripped, or if someone else knocked into them.
So each person had a gaggle of attendees. Sometimes two, sometimes eight or more. The marchers themselves were of all ages, young adults and older adults, and so were their attendants. These people followed them closely, carefully guiding their way, shooing away onlookers, generally keeping them safe. They would often stop and the attendants would use a rag to wipe away the drool, or pour a little water in their mouths. Sometimes there would just be two on either side, holding their hands and walking with them down the road. If the person was pierced with a long or unusually heavy item, the attendants might help bear the weight of it, holding it in the proper position. It was surprisingly touching watching, for example, a 20 year old boy in a deep trance with multiple pins through his face, holding hands with what were probably his two best friends as they led him safely through the mayhem.
And yet it wasn't all super serious either. The attendants who weren't on "watch the long pole" duty were often laughing with each other, clearly enjoying themselves. Ditto with the onlookers. Yes, some were praying, but many were there, like us, just enjoying the spectacle. Everyone had a camera. Lots of cell phones and iPads and DSLRs on tripods. The braver folk would run right out into the parade path to get better pics. And most of the marchers, despite being in a trance, seemed more than happy to stop to let people get photos. Some would stop and stare ahead blankly, others would outright pose and "smile". Sometimes they would take the fruit offerings from the crowd and impale them on their swords, or sometimes they would just walk down further and hand them to someone else. Sometimes they had bags of candy which they handed out to the crowd as they walked. (Seriously, one lady with a curtain rod through her cheek was handing out individually wrapped Mentos to the crowd.) In fact many aspects of the parade were like any parade you might see in the US, with radio station floats going by playing music, or trucks with people dressed in costume waving at the crowd, or company trucks handing out their drink or snack or whatever it was.
But then things got even crazier. Towards the back of the parade came what I guess I would describe as altars, usually carried on the shoulders of 4-10 guys. We heard them coming long before we saw them, because this part of the procession was all about firecrackers.
Onlookers, who all had packages of firecrackers, would light them and then attempt to throw them into the altar, where the whole package would explode in noisy, smoky, pandemonium. It wasn't just one person at a time either, it was a constant stream of these firecrackers streaming through the air towards the altars.
Of course, most of the airborne firecrackers missed the altar altogether, and would fall to the ground, exploding around the altar-bearers feet. These guys didn't get impaled, but they walked through the firecrackers barefoot as if they were nothing. We had some explode around us, and let me tell you, they weren't nothing.
The final night, the procession was centered around fireworks. We walked around for a few hours just watching everyone prepare. Everyone was out, the streets jam packed. Amazingly they didn't close the streets to traffic until the procession arrived. So people would light their fireworks, and just throw them out into the street, right in front of not only the cars, but also the numerous people on scooters, who would drive by quickly as things were exploding around their ankles. Sometimes they would throw the packages of firecrackers up into the air to watch them explode as they fell – oftentimes down onto the windshields of cars or into the open cabs of trucks. We heard tale of a tourist who had a firecracker land in his pocket and melted his iPhone. We sat for a while in a main traffic circle, and some little kids next to us kept lighting things and throwing them into the street, but between their terrible aim and the unpredictability of where an exploding firecracker is going to go, there were often things exploding under our feet. Each time it happened everyone around us would just giggle. It was utter chaos.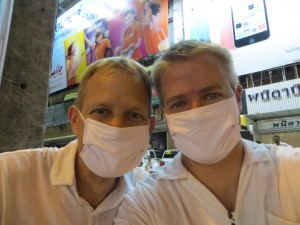 Yet everyone was happy, having fun. People had big roman candles that they would light off distractedly, or bottle rockets. Some bigger booths were setting off bigger stuff that was exploding into the air, barely clearing the buildings around them. Mind you this is right in the city, not out in some open field. I would love to know how many buildings catch on fire every year. Because it must happen. We lucked out, and before things really got going, a guy walked by and tried to sell us masks to block the smoke. It was early in the evening so we declined at first, but then decided it would be a good safeguard. For a buck we got two masks as well as cotton balls for our ears. THIS WAS THE BEST DOLLAR I HAVE EVER SPENT. The firecrackers soon became deafening. And it wasn't long before we needed the masks too.
We had wandered down a side street by the time the procession came around. And it was the same as before, with people throwing their firecrackers into the altars, but this time there was n holding back and they were using everything they had. People had ten foot strings of firecrackers they had attached to a pole, and they would wave the pole around over the street. The smoke was trapped in the narrow streets, and before too long we were completely engulfed. The camera couldn't capture anything the smoke was so dense. We were getting pelted with bits of exploding things, and when we got home we realized our clothes had little burn marks all over them. It. Was. Crazytown. We eventually escaped, laughing the whole way, but from our room we could hear the firecrackers continue non-stop until I finally fell asleep about 1am.
This is a video of the first of the altars making its way down the street.
A few minutes later. Notice how thick the smoke is!
I'm left with a curious mix of emotions about the whole affair. It was a unique experience that you can only get by traveling the world. Though I don't begin to understand it, and while there were moments I had to close my eyes and remember to breathe deep when I saw something particularly disturbing (they were cutting their tongues with freaking tree saws!), overall I still was left with a positive impression. I may not understand it, but then I wasn't the intended audience. Although no one seemed to mind that I was there, the activities were not put on in an effort to educate the tourists, they were put on for the benefit of the participants. And it was clearly a positive experience for those choosing to participate. Many of the attendees had bandages on their cheeks from where they had been pierced in previous days of the procession. We did see a few ambulances around, ready for trouble, but historically the track record is pretty good. They say most people don't even scar. Which is hard to believe when you see the photos below, but given the huge number of people that clearly participate every year, we still never saw anyone with a scar on their faces.
In the end, I'm glad that I went. Having experiences like this, however challenging they may be, is precisely why I travel.
All right. The pics. You've been warned!
*DISCLAIMER* I often have no idea what I am talking about. When I'm sharing the things I saw or did or heard, please do not assume that I have done much (or any) research about those things. Sometimes when I relate stories it is less about listing true facts about the thing and more about sharing my own experience of the thing. Which may or may not have been related to the facts. Unless of course someone (or Wikipedia) told me the facts and A) I found the facts interesting enough to remember and B) they weren't just lying for the sake of the story. (Hint: tour guides can lie, and Wikipedia can be wrong.) I won't knowingly lie about stuff (probably) but I'm not fact-checking everything I say either.
So what about you? Would you attend this festival if given the chance? Let me know in the comments!
Related posts
Travel Stories: The Bone Church
The Story Behind Ten Degrees Warmer
All photos and video by Robb Hillman and David McMullin